Last-Minute Put Buying Targets ZAGG
07/07/2011 7:00 am EST
Focus: OPTIONS
Bearishly biased option traders are snapping up very short-term puts on Zagg Inc. (ZAGG) at a feverish pace, clearly expecting shares of the specialty retailer to continue their recent decline.
Put players have been descending on shares of Zagg Incorporated (ZAGG) this week, with roughly 11,000 of these bearishly oriented options crossing the tape by mid-day Wednesday alone. By contrast, ZAGG's average daily put volume totals just 2,876 contracts.
The most active strike is ZAGG's out-of-the-money July 11 put, where 5,317 contracts have been exchanged. About 71% of these puts traded closer to the ask price, suggesting they were purchased, and implied volatility on the front-month strike has surged 50 percentage points at last check.
With only 1,435 contracts in open interest at the July 11 put, it looks as though new bearish bets are being added here today.
However, ZAGG is no stranger to bearish speculation. The equity's Schaeffer's put/call open interest ratio (SOIR) checks in at 1.00, which ranks higher than 97% of other such readings taken during the past year. In other words, near-term options traders have been more put-heavy only 3% of the time.
In the same pessimistic vein, short interest jumped by 10% during the past month and now accounts for nearly 55% of ZAGG's float. At the stock's average daily volume, this translates to nearly a week's worth of pent-up buying pressure.
ZAGG has gained an impressive 80% in 2011, but put buyers are likely responding to a recent downturn on the charts.
The equity has retreated about 19% since peaking at $15.85 in late June and is now on track to end the session below its 20-day moving average (MA). However, ZAGG could find some technical relief in the form of its 40-day trend line, which contained a similarly drastic pullback during the month of May.
Here is a recent daily chart: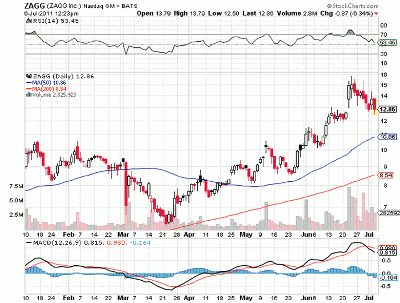 Click to Enlarge
ZAGG Incorporated designs, manufactures, and distributes protective coverings, audio accessories, and power solutions for consumer electronic and hand-held devices, under the invisibleSHIELD, ZAGGaudio, and ZAGGskins brand names, primarily in the United States and Europe.
By Elizabeth Harrow, contributor, Schaeffer's Trading Floor Blog