Traders Increase Put Positions on TZOO
09/02/2011 8:00 am EST
Focus: OPTIONS
It could be a sign of greater downward pressure on the stock, especially if analyst expectations continue to shift.
Despite starting the session higher, the shares of Travelzoo, Inc. (TZOO) ended in the red on Wednesday. The stock's upward momentum seemed to stall in the round-number $40 region, which is home to its descending 20-day moving average.
Now, the security is trading between this trendline and its ten-day cohort, which has ushered TZOO significantly lower since its earnings-induced bearish gap on July 22. What's more, it appears options speculators are either betting on additional downside for the equity, or attempting to insure their long stock positions against an extended pullback.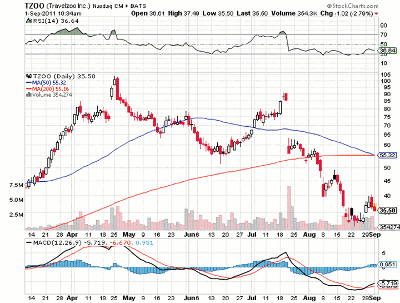 Click to Enlarge
Specifically, TZOO saw close to 4,100 puts cross the tape the other day—about two times the number of calls traded, and more than three times the stock's average single-session put volume.
Garnering the most attention was the out-of-the-money December 25 put, which saw nearly 2,000 contracts change hands—mostly at the ask price, suggesting they were bought. Plus, put open interest at the December 25 strike ballooned by more than 1,700 contracts overnight, confirming an influx of buy-to-open activity.
As alluded to earlier, the December 25 put buyers have one of two motives: to gamble on an extended retreat for TZOO, or to lock in an appealing exit price for their shares in the event of a significant decline. Unlike the former group, the latter group is ultimately bullish on the stock—they're shareholders, after all—but is willing to fork over the cash for the puts in order to insure against the worst.
However, even if yesterday's surge in out-of-the-money puts was, in fact, attributable to bearish option bettors, it's not like TZOO is a stranger to skepticism on the Street. In fact, short interest accounts for a whopping 80% of the equity's total available float, and would take nearly a week to unwind at the stock's average daily trading volume.
On the other hand, the analyst community is at the extreme opposite of the sentiment spectrum. According to Zacks, TZOO sports four "strong buy" endorsements, compared to one "sell" or worse recommendation. Likewise, Thomson Reuters pegs the consensus 12-month price target on the equity at a lofty $87.80―more than double the security's settlement price of $36.52 on Wednesday.
Just this morning, though, analysts at Benchmark slashed their price target on TZOO by 25%, to $60 from $80. Should more brokerage firms follow suit, a wave of negative analyst notes could exacerbate the stock's recent struggles with short-term trendline resistance.
Andrea Kramer is a contributor to Schaeffer's Trading Floor Blog.