Quick Put Spread Set-up on Priceline
10/06/2011 7:00 am EST
Focus: OPTIONS
Traders can "name their price" on the popular travel stock by executing a put spread, which will profit if the high-flying shares decline by October expiration—as predicted by the charts.
Priceline.com (PCLN) is another example of a high-flying, momentum-driven stock that is up by a bazillion percent over the last three years. But I am ready to "name my own price" at $393, at least in the short run, and put money on it to lock it in. Let me explain.
Below is the daily chart for PCLN. After the long run higher, it has been consolidating over the $445 support level that has been important several times since March.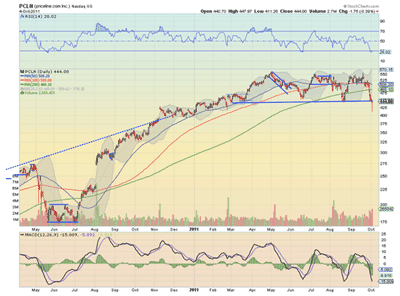 Click to Enlarge
On Tuesday, October 4, it broke that level on its recent run lower but printed a potential bullish reversal candle, a hammer. This needed to be confirmed by a higher close on Wednesday to get long.
But look at the other indicators: The Relative Strength Index (RSI) is trolling on the bottom and the Moving Average Convergence Divergence (MACD) indicator is growing more negative. Both support more downside.
The picture gets clearer when looking at the weekly chart. The RSI has been trending lower and the MACD has been growing negative here as well.
Looking at the Fibonacci levels, $440 is a 23.6% retracement of the move higher, and a break would suggest a move toward $384.49, the 38.2% retracement. But back on that daily chart above, there is a gap to be filled at $393, hence my call.

Click to Enlarge
Trade Idea: Buy 1x2 October Put Spread 420x395/385
Buy the October 420-strike call and sell both the October 395-strike call and the October 385-strike call. This gives upside of $25 on a close below $395 on October expiry.
See video: Trade Options Expiration Like a Pro
If the stock closes below $385, then you will be put the stock, but with a $360 basis, and can sell for a profit immediately as long as it stays above $360.
I offered this trade on Tuesday when it was trading at a 40-cent credit, but without the analysis. Near Tuesday's close, it was offered for $2.60. Keep an eye on it and look for a credit and a close under $445 to get in.
By Greg Harmon of Dragonfly Capital