Option Traders Bet on Las Vegas Sands
10/19/2011 7:00 am EST
Focus: OPTIONS
Traders anticipating a year-end rally in Las Vegas Sands (LVS) have been actively buying calls recently, while one big player executed a bullish spread position that achieves max profit only on a sizable upside move.
Calls have been quite popular on Las Vegas Sands Corp. (LVS) recently, including a big day last Friday (Oct. 14), according to data from the major options exchanges. During the course of that session, traders on the International Securities Exchange, Chicago Board Options Exchange, and NASDAQ OMX PHLX bought to open 7,258 calls on LVS, compared to just 2,906 puts—netting the stock a single-day call/put volume ratio of 2.49.
The day's most active strike was the soon-to-expire October 46 call, where 9,876 contracts were exchanged. About 64% of these calls traded at the ask price, confirming they were most likely purchased, and open interest on this near-the-money strike rose over the weekend by 5,271 contracts. Now, the October 46 call carries total open interest of 9,734 contracts.
Meanwhile, one call player on Friday opted to initiate a bullish spread strategy on LVS. The speculator purchased 850 December 40 calls and simultaneously sold 850 December 50 calls. The long call spread was initiated for a net debit of $4.95, and will attain its maximum profitability if LVS settles at or above $50 upon December expiration.
On the charts, LVS is currently right above an area where its 50- and 200-day moving averages meet. The stock has remained relatively stagnant throughout 2011, shedding 1.5% of its value year-to-date but offering a good deal of volatility during that time.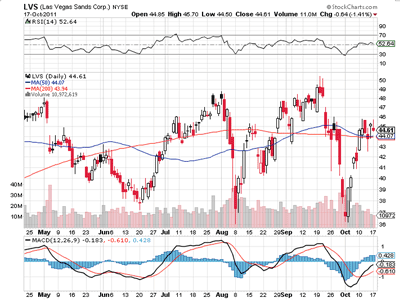 Click to Enlarge
By Elizabeth Harrow, contributor, Schaeffer's Trading Floor Blog