Popular Coffee Stock Getting Cold?
10/21/2011 8:00 am EST
Focus: OPTIONS
A prominent options player has structured a bearish put spread on Green Mountain Coffee Roasters (GMCR), betting that the shares will continue to stagnate or even continue their recent decline in the weeks ahead.
Puts were the options of choice mid-week on Green Mountain Coffee Roasters Inc. (GMCR), with roughly 27,000 contracts crossing the tape on Wednesday (Oct. 19) alone—more than doubling the equity's typical daily put volume of about 13,000 contracts.
Taking a closer look at the day's major block trades, it looks as though one spread player is bracing for an extended decline from GMCR.
Specifically, the speculator initiated a long put spread by purchasing 433 November 75 puts and simultaneously selling an equivalent number of November 70 puts. Open interest at both strikes rose overnight, confirming the addition of newly opened contracts.
In other words, this appears to be a long put spread on GMCR, with the trader betting that the shares will fall as far south as $70 by the time November-dated options expire.
The spread was opened for an initial net debit of $1.70, which also represents the maximum potential loss on the position. The trader will have to eat this entire amount if GMCR settles at or above $75 by the close of trading on Friday, November 18. Meanwhile, the maximum potential profit of $3.30 (difference between put strikes, less net debit) will be attained if GMCR finishes at or below $70 upon November expiration.
It's been a rough ride for GMCR lately, with the stock taking a big tumble this week after bearish comments from Greenlight Capital's David Einhorn.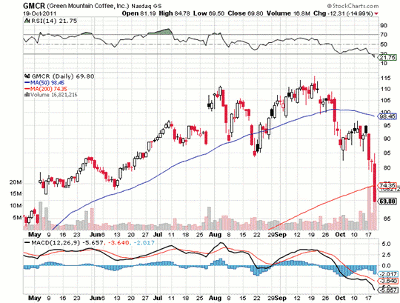 Click to Enlarge
The stock has smashed through its 200-day moving average on heavy volume, however, year-to-date, the stock is up about 125%.
By Elizabeth Harrow, contributor, Schaeffer's Trading Floor Blog