Big Bets on High-Flying Pharma Stock
02/07/2012 9:00 am EST
Focus: OPTIONS
Following bullish earnings, Karee Venema of Schaeffer's Research writes that call buyers are piling in to one biopharmaceutical stock that has soared to three-year highs in just the last 60 days.
Options players have turned up the volume on Gilead Sciences, Inc. (GILD) following the company's earnings, with calls and puts flying off the shelves. Calls are proving to be the options of choice, however, with roughly 47,000 contracts crossing the tape early yesterday, representing eight times the average intraday rate.
By comparison, around 21,000 put contracts have crossed the tape, or five times the average intraday pace.
The heavy option activity comes on the heels of GILD's quarterly earnings announcement, released after last Thursday's close. For the fourth quarter, the biopharma firm recorded a profit of $665.1 million, or 87 cents per share, a 5.7% year-over-year rise from $629.4 million, or 76 cents per share. Excluding items, earnings arrived at 97 cents per share. An 11% boost in product sales helped revenue rise 10%, to $2.2 billion.
The bottom-line results fell short of Wall Street's forecast for adjusted earnings of $1.05 per share, however, GILD's top line beat analysts' expectations for $2.18 billion in sales. In addition to the top-line win, GILD revealed that its highly-anticipated hepatitis C drug tested well in a clinical trial.
Last week's post-earnings preference for calls is an apparent change of tempo for GILD. The stock's Schaeffer's put/call open interest ratio (SOIR) of 0.91 ranks in the 79th percentile of its annual range, suggesting that short-term speculators are more put-heavy than usual towards the security.
In addition, investors on the International Securities Exchange (ISE), Chicago Board Options Exchange (CBOE), and Nasdaq OMX PHLX (PHLX) have bought to open more than two puts for every call during the previous two weeks. What's more, this ratio ranks just seven percentage points from a 52-week peak, showing that puts have been scooped up over calls at a near-annual-high pace over the past ten trading days.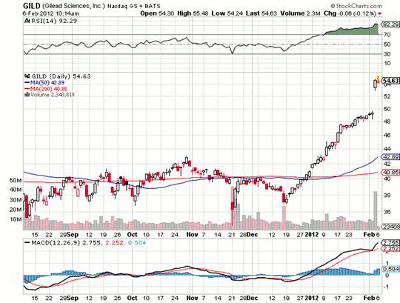 Click to Enlarge
However, the about-face by options players may be easily explained by the more than 9% the stock added in last Friday's session. In fact, this post-earnings pop thrust GILD to a three-year high of $54.90. The security's upward trajectory could continue should this glut of bears begin to reduce their exposure on the equity.
Like sector peer Alexion Pharmaceuticals (ALXN), GILD was blessed with a number of bullish brokerage notes this morning, with the boldest price-target boost coming from BMO Capital Markets, which raised its target by $18, to $67.
More: To learn about technical warning signs on Gilead Sciences (GILD), read this Charts in Play column.
By Karee Venema of Schaeffer's Research