Bear Put Spread Has 388% Max Profit
06/14/2012 7:00 am EST
Focus: OPTIONS
Beth Gaston of Schaeffer's Research dissects a colossal bearish put spread on a fast-falling China stock that requires a big down move to turn profitable, but if it does, a potentially huge profit awaits.
The American Depositary Receipt (ADR) Focus Media Holding Limited (FMCN) was a notable name in the option pits early this week. By the close on Monday, for example, call volume was six times the average and put volume was seven times greater than what FMCN sees on a typical day. All told, 14,000 calls traded alongside 26,000 puts.
Roughly three-quarters of this volume was concentrated at three strike prices, and it appears as though creative speculators combined a short call with a bear put spread to build a bearishly positioned play on the Chinese digital media company.
The devil's in the details, so let's break down the specifics behind this strategy. While these types of multi-legged strategies aren't for everyone, it's important to understand them for the purposes of analysis and general trading literacy!
The following trades occurred around 10:00 am Eastern time:
January 12.50 put: 10,000 contracts traded at the bid price of $1.25
January 17.50 put: 10,000 contracts traded at the ask price of $3.50
January 30 call: 10,000 contracts traded at the bid price of $1.40
The trader sold the calls for $1.40, offsetting the $2.25 price of the bear put spread. The overall net debit for the three-legged trade was $0.85 per spread. That's a total investment of $850,000, or $0.85 times 100 times the 10,000 contracts traded.
If FMCN is anywhere between the long put and short call strikes ($17.50 and $30, respectively) at January expiration, the trader will lose his $0.85 investment. Below the breakeven price of $16.65 (long put strike minus net debit), however, gains begin to appreciate down to the $12.50 strike, where the maximum potential profit is $4.15, or the difference in put strikes less the overall debit paid. Above the $30 strike, however, losses are unlimited due to the uncovered short call.
Here is the trade graphically: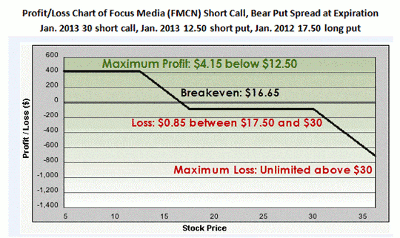 Click to Enlarge
Why would a trader use such a strategy? If he/she feels FMCN has no shot of rising to $30 by expiration, the sold calls generate premium that help pay for the bear put spread. It's still a very bearish play, as it doesn't begin to profit until the stock breaches $16.65 (a 15% drop from current levels). But at its maximum profit point (below $12.50), the potential reward outweighs the risk by 388%.
FMCN shares dropped more than 5% on Monday without any significant news (other than this unusual options volume) to motivate the stock. In the past year, the shares are down almost 28%, but are virtually flat so far in 2012. Despite this lackluster performance, options players have been largely complacent recently, at least prior to yesterday's large bearish spread.
In the past ten days on the International Securities Exchange (ISE), Chicago Board Options Exchange (CBOE), and NASDAQ OMX PHLX (PHLX), just seven puts have been bought to open for every 100 calls. This put/call volume ratio is historically low, registering in the second annual percentile.
By Beth Gaston, contributor, Schaeffer's Research