Finding Sentiment Clues in Weekly Options
07/12/2012 8:00 am EST
Focus: TRADING
Andrea Kramer of Schaeffer's Trading Floor Blog explains why watching option volume can give you clues about the future direction of any stock.
Standard monthly and weekly options are a great tool for getting tips on trader sentiment about specific stocks, sectors (via ETFs), and even the overall market.
For example, short-term options traders are targeting Alpha Natural Resources (ANR) today, with near-the-money weekly options garnering notable attention.
Yesterday by midday, the weekly 8 strike had seen about 550 calls and 480 puts change hands—mostly at the ask price, suggesting they were bought.
Implied volatility (IV) on the call side was last seen 1.1 percentage points higher, while IV on the put side is up 3.4%, hinting at fresh initiations.
By purchasing the 8-strike calls to open, the traders are expecting ANR to rebound by the end of the week. On the other hand, the put buyers are betting on an extended decline for ANR. Currently, the stock is dancing just north of all-time-low territory, after sector peer Patriot Coal Corporation (PCX) filed for bankruptcy.
From a longer-term perspective, ANR has given up about 82.5% during the past year, guided lower beneath its ten-week and 20-week moving averages, which have stifled all but one of the stock's weekly advances since late April 2011.
More recently, the security has underperformed the broader S&P 500 by 48% during the past 60 sessions, and touched a record nadir of $7.46 late last month.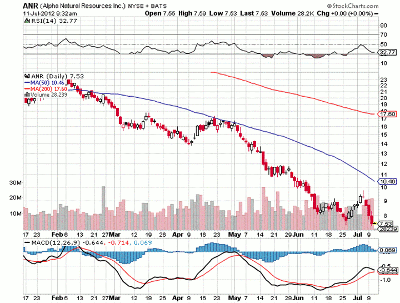 Click to Enlarge
Option trading volume information, combined with simple fundamental analysis, can give any trader great insight into how the crowd believes a stock will perform in the short-term.
Despite ANR's technical troubles, or the fundamental concerns surrounding the coal industry of late, Wall Street remains surprisingly enamored of the stock. On the International Securities Exchange (ISE), Chicago Board Options Exchange (CBOE), and NASDAQ OMX PHLX (PHLX), the equity has racked up a ten-day call/put volume ratio of 6.05, indicating that traders have bought to open more than six calls for every put during the past two weeks. This ratio stands just six percentage points from a 12-month acme, suggesting options buyers have initiated bullish bets over bearish at a near annual-high pace.
As a result of the influx of optimistic positions, the security's Schaeffer's put/call open interest ratio (SOIR) rests at 0.41, indicating that calls more than double puts among the front three months of options. Compared to similar readings taken during the past year, this ratio stands in the third percentile, implying that short-term options players have rarely been more call-biased.
In similar fashion, the stock sports 14 "strong buy" endorsements from the analyst community. On the flip side, just six brokerage firms offer up lukewarm "hold" ratings, with not one analyst doling out a "sell" or worse recommendation. Likewise, the consensus 12-month price target on the equity stands at $19.41—more than double ANR's current price.
From a contrarian perspective, this abundance of optimism could translate into an additional headwind for ANR. Should the stock continue to struggle on or off the charts, a reversal in sentiment in the options arena, or a flood of downgrades and/or price-target cuts, could exacerbate the equity's slide.
Is the crowd right or wrong? We'll see, but the more experience you gain watching options, the better prepared you will be to make smart entry and exit decisions, even if you don't trade options.
Andrea Kramer can be found at Schaeffer's Trading Floor Blog.
By clicking submit, you agree to our privacy policy & terms of service.
---
Related Articles on TRADING