Investors Give President a Big Thumbs Down
04/18/2012 9:50 am EST
Focus: POLITICS
The results of the first MoneyShow.com®/The Independent Agenda® Investor Class Poll are in, and they're bad, bad news for President Obama.
See the complete poll results here.
More than three quarters of the 1,295 investors polled would vote for former Massachusetts Gov. Mitt Romney if the election were held today. Romney would win by 76%-24% among this important group, outpolling the President by more than three to one.
Romney also would get more than 60% of the votes cast if either Rep. Ron Paul or New York Mayor Michael Bloomberg ran as independent candidates, the poll showed.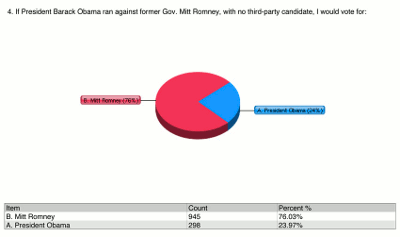 Click to Enlarge
The respondents were pretty evenly divided among three leading contenders for the Republican vice presidential nomination: 30% prefer Sen. Marco Rubio (R-Fla.), 28% choose Rep. Paul Ryan (R-Wisc.), and 26% favor New Jersey Gov. Chris Christie. Former Gov. Romney has begun to vet potential running mates.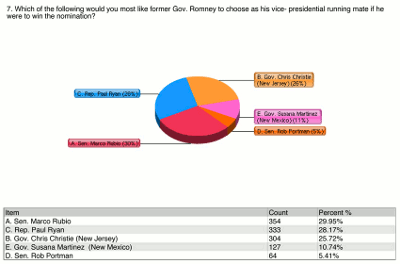 Click to Enlarge
The poll was conducted from April 9-16 through dedicated e-mails and on MoneyShow.com. Its findings have a 95% confidence level with a 2.72% margin of error. You can see the complete poll results here.
President Obama's re-election team can take some solace from the composition of this group.
More than half of them are registered Republicans and only 15% are registered Democrats. The country is 30% Democratic and 27% Republican, so the percentage of Republicans is nearly twice as high in this group.
Also, 53% think of themselves as fiscal conservatives—about ten percentage points higher than the 42% of all likely voters who describe themselves that way, according to a poll by the conservative Rasmussen Reports.
But that's about all the positive spin the President's supporters can take away from this.
First, the three-to-one margin against him amounts to a decisive repudiation of his leadership on the economy from people who have skin in the game. It's a much, much bigger spread than we've seen in previous elections.
In 2008, the investor class was evenly split between Sen. Obama and Sen. John McCain, according to a poll in IBD. The same poll found investors broke for President George W. Bush over Sen. John Kerry by 53% to 42% in 2004.
Reuters/C-Span/Zogby showed McCain ahead of Obama 50.4% to 43.8% just before election day 2008. President Bush won 61% of this group in 2004, that poll reported.
And the funny thing is, investors have done very well under this President, on paper at least.
The Standard & Poor's 500 Index closed at 805.22 on January 20, 2009, President Obama's inauguration day. So, it gained 76% from there to its recent high of 1419.04 on April 2.
But few really believe the market's move has been based on fundamentals rather than government spending, central bank intervention, and what have you. They have little confidence the market or economy will continue to improve in the future.
And barring some improbable event, the investor class' lopsided support of former Gov. Romney is likely to persist.
Romney has just survived a bruising primary season where his flip-flopping was nearly a daily event, yet he enjoys overwhelming support from this group. And unlike in 2008, they know President Obama well enough to have come to a judgment about him.
Their verdict: thumbs down. If investors had their way, they'd say to President Obama: "You're fired." That's the bad news for him and the good news for Romney from this first MoneyShow.com®/The Independent Agenda® Investor Class Poll.
Review the complete poll results here.
Howard R. Gold is editor at large for MoneyShow.com and a columnist for MarketWatch. Follow him on Twitter @howardrgold and read his political blog at www.independentagenda.com.
By clicking submit, you agree to our privacy policy & terms of service.
---