An Apple a Day: Doctor's Orders?
04/23/2013 11:00 am EST
Focus: STOCKS
The market has it wrong on Apple, says Jason Cimpl of Top Stock Insights.
Apple (AAPL) is trading within a hair of its 52-week low of $419. Now is perhaps the best time in recent years to buy the stock. And buying shares below $450 will be viewed as one of the best investment opportunities of the year.
I want to go on the record today telling you that I think this is a bottom for Apple shares. There are three reasons why the stock is attractive:
Earnings Out Today:I believe expectations are low for Apple's second quarter. Four out of the last six times that Apple has reported earnings, the company's performance has fallen short of analyst expectations, and the stock has been punished.
This past performance means that many investors expect Apple will not perform well when second-quarter earnings are reported—setting a low bar, and potentially making it easy for Apple to exceed those expectations.
New Products:They're on the horizon. While Apple doesn't pre-announce product launches, there is reason to believe that a new version of the iPhone is coming this summer, and a lower-priced iPhone for international markets may out soon too. Additionally, there is speculation about an iWatch and the long awaited iTV in 2013.
While the launch of the iPhone 5 and iPad mini were disappointing to many observers, these new products could breathe some life and excitement back into Apple, bringing investors back into the stock in a big way.
They're Pro-Shareholder:Earlier this year, hedge fund manager David Einhorn proposed a new class of Apple shares in an effort to get the company to return its cash hoard to shareholders. Apple CEO Tim Cook didn't want to be told how to run his company by a NYC hedge fund manager.
However, now that the dust has settled and Apple shares remain at low levels, Cook may announce "pro-shareholder" steps, including a larger share buyback or an increase in the dividend. These actions would be viewed favorably by investors, and could send shares higher.
The best reason to buy Apple is that there appears to be little downside. A big earnings miss would likely send shares below $400. But given the low expectations, that scenario seems unlikely. And there is also a strong support zone (box) at $400. So a major decline appears unlikely.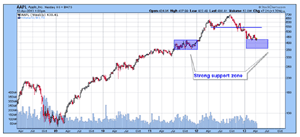 Click to Enlarge
In my opinion, an earnings miss is really the only event that could push Apple shares lower in the coming months. I would put the likelihood of that happening at around 25%.
I think there is a 50% chance that Apple's earnings are neutral—having little effect on the stock. And I suspect that there is a 25% chance for a positive earnings surprise. This surprise could take the shares back to the $550 level (blue line), which we know is a strong resistance zone.
With Apple shares currently trading at 6.4 times expected 2013 earnings, the stock is cheap. It is one of the least expensive stocks in the S&P 500 index on a price-to-earnings basis.
The market is pricing Apple as though it's one of the least desirable companies to own. My experience as an Apple customer makes me believe that the low valuation isn't justified.
If you don't own Apple, buying the stock as soon as possible before earnings results could be a great investment. Many investors were willing to pony up $700 for the stock seven months ago...now no one wants it at $430. This doesn't make much sense.
I think Apple shares could return to $700 within the next two or three years, making the risk-reward opportunity extremely attractive right now.

Subscribe to Top Stock Insights here...
Related Articles:
Still Time to Profit from These Sectors
This Apple Is Ripe for Picking
Should You Trade Apple's Earnings Release?