Big Banks Still Unloved
06/07/2012 6:45 am EST
Focus: STOCKS
With a bailout behind them and the Federal Reserve practically shoveling cash into their coffers, the big banks can't seem to keep their engines started, much less moving forward, notes Jason Cimpl of The Daily Profit.
The shares of Morgan Stanley (MS) have fallen all the way back to 2011 crash levels. In the past month alone, the shares are down over 20% to trade at the lows of the year. Despite the rally to begin 2012, bank investments quickly lost their allure.
The bullish momentum of bank stocks was an important component of the rally that started the year. However, bearish news from other banks like JP Morgan Chase (JPM) along with weakening employment has hammered the banking industry.
While the economic news over the past few weeks has been grim—and no doubt JPM will record heavy losses this quarter—one has to wonder if both those events are critical enough to drive other banks back to October 2011 lows. Recall that the US had its credit rating recently downgraded back then, and double-dip recession fear firmly gripped the market.
It will be important for traders and investors alike to watch bank stocks closely. Banks were the market leaders in the rally that started in October 2011 and sadly they have also been the leaders in the pullback that began in March.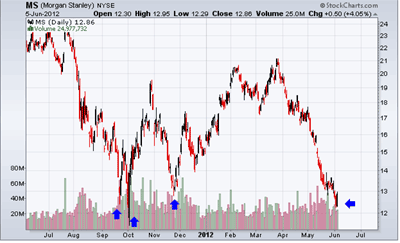 Click to Enlarge
Because it has been the case for eight months, it makes sense that banks will continue to spearhead the trend of the indices. And in looking at a chart of MS, the future direction of it and the market could be higher.
The stock now trades at a level where it found heavy support (blue arrows) in the past. Traders should be looking for a bullish turn that gets back above $15.
Investors also need to pay close attention should shares climb higher than $15 and put in a bottom. The broad market would likely be doing the same thing, which means the pullback would be over.
Subscribe to The Daily Profit here...
Related Reading:
Rally Potential that Bears Don't Expect
2 Pharma Stocks Winning with Orphans