One Tobacco Stock Worth a Look
Focus: STOCKS
If you can get past the "sin stock" stigma, this tobacco company is doing everything right and kicking off a solid dividend to boot says Todd Johnson of Investing Daily.
Tobacco stocks as a whole are recession-resistant, providing safety and robust dividend yields, as well as respectable growth.
Case in point: Lorillard (LO) is firing on all cylinders, with the stock at 52-week highs. The stock's total return so far in 2012 is 26.3%, with a 4.5% dividend yield.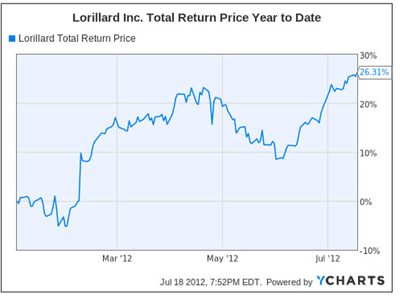 Click to Enlarge
Lorillard was founded in 1760 in Greensboro, North Carolina, where the company still has its headquarters and all its manufacturing facilities. Lorillard is the oldest and third-largest maker of cigarettes and consumable tobacco in the US, with five brand families: Newport (its flagship brand), Kent, Maverick, Old Gold, and True.
The company's Newport label is the second-largest cigarette brand and the number-one menthol brand in the US. Lorillard makes and sells 43 products in all, with differences in price, packaging, target-audience positioning, cigarette length, flavor, and taste.
In the face of increasing anti-smoking initiatives tied to public health, Lorillard recently expanded its portfolio to include electronic cigarettes, with its $135 million acquisition in April of bluCigs, a company that makes tobacco-free electronic cigarettes that don't emit smoke, cigarette smells, or ash residues.
Lorillard in the first quarter of 2012 increased its US cigarette market share from 14.1% to 14.5%. The addition of bluCigs is anticipated to boost corporate sales in future quarters.
Management and sales efforts are focused on offering electronic cigarettes through the company's vast distribution network.
!--start-->!-->