Copper: The Trader's Economic Barometer
05/26/2010 12:01 am EST
Focus: COMMODITIES
Copper, being used primarily as an industrial metal, can be a good gauge for broad economic activity, and thus helpful in making comparisons with the S&P 500.
Let's take a quick look at copper prices, the daily chart over the last few months, as well as the popular copper ETN that trades under the symbol JJC.
First, copper (futures) index prices: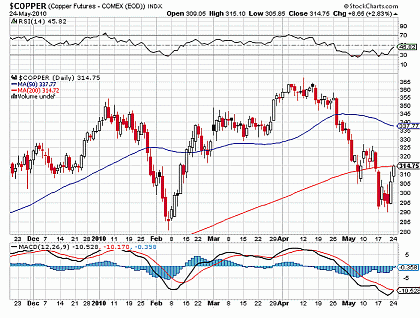 Click to Enlarge
Copper prices, while not exactly mirroring the S&P 500, are in close resemblance with the broad market index in price structure.
However, copper prices had a slight lead on the S&P 500 recently, peaking at the 365 index level on April 5, 6, 12, and 15. The official top—a spike—was on April 12.
In contrast, the S&P 500 officially peaked on April 26, more than a week later than copper peaked.
Copper prices formed a similar, three-wave selloff pattern (like stocks so far), bottoming one day ahead of the S&P 500's Friday spike low off of the February 2010 closing low.
The index, like the S&P 500, has overhead moving average resistance at the 315 level currently. Let's watch to see what happens there.
Next, the ETN JJC: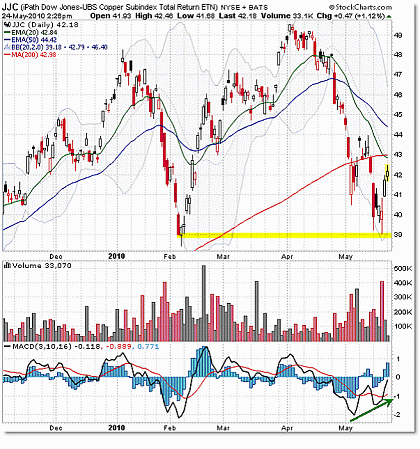 Click to Enlarge
The ETN is a tradable vehicle for investors looking for exposure—or speculation—in the copper markets without using futures contracts.
JJC actually peaked at $49.50 on April 5, well in advance of the S&P 500 peak on April 26.
JJC also bottomed on Thursday—versus Friday for the S&P 500—off of the horizontal "prior price close" support level at $39.00 per share.
The confluence EMA resistance for JJC rests at $43 and then $44.
Unlike gold, which has a wider range of usage by investors (as a store against inflation and a source of protection in times of high risk), copper does not share the same qualities as its precious metal cousin.
An investor is less likely to rush to buy copper when economic times are troubling. Copper serves more as an industrial metal in manufacturing, and thus, can be a good barometer of economic demand for the metal.
Keep watching copper prices because they may continue to give slight leads on the economy and broader equity markets.
By Corey Rosenbloom of Afraid to Trade