9 Stocks with "Safe," Sizable Yields
09/30/2011 9:00 am EST
Focus: STOCKS
These stocks show positive fundamentals, steady dividend history, and currently yield 5%-10%, making them viable alternatives to low-yielding Treasuries or cash.
With the market pulling back, so much cash is going into basically zero-return "safe-haven" investments like the US dollar and money markets and into US Treasury bonds yielding 3%, 2%, or even less. So it's probably a good time, in my view, to look at some stocks that are paying dividends far in excess of that…over 5% in this case.
Even traders need to park some money in longer-term investments sometimes. Or perhaps you are looking for a few good investments for your retirement account. Either way, this list will help.
The safety of the dividends of the stocks mentioned needs to be researched and evaluated on your own through due diligence. And in addition, of course, the stock price itself can go lower (in which case the dividend yield will go higher assuming the actual cash dividend payout remains the same or grows).
I ran a screen for optionable stocks with over two million shares in average daily volume (liquid), market capitalization over $2 billion (medium sized and above), and with dividend yields over 5%.
To further narrow down the list and increase the likely quality of the dividend stream, we also screened for some basic fundamental data such as gross margin/operating margin/net profit margin all over 10%, return on assets/return on equity over 5%, and debt/equity ratio under 1. (Data from Finviz.com.)
This narrowed down the universe of stocks to a manageable nine names currently. They are listed in the following table:


Click to Enlarge
First, a couple notes about the group in general. These are not "growth stocks," as seen by the low values for quarter-over-quarter (Q/Q) sales growth and projected EPS next 5 years (with the possible exceptions of ARCC, SCCO, and STO).
The P/E ratios for this group are also low, reflecting the likely modest growth prospects. And the 2011 performance of these names hasn't been anything to write home about, with the exception of the year-to-date (YTD) gains by RAI and LLY.
Additionally, we can see that three big global telecom companies are in the group (T, VOD, SKM). Also, five of the nine stocks are foreign-based.
Let's take a quick thumbnail look at these stocks and their recent dividend-paying history (from dividata):
Ares Capital Corp (ARCC) tops the list. This is a private equity finance firm that makes loans to businesses and does other financial business-to-business investments and transactions. The company has paid at least a consistent dividend between $0.30 and $0.50 per share in every quarter going back to December 2004.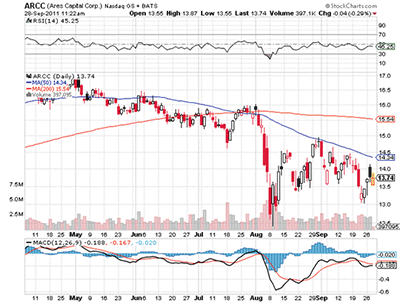 Click to Enlarge
NEXT: More High-Yield Ideas to Consider
|pagebreak|
United Microelectronics Corp (UMC) is next. This Taiwanese company is involved in semiconductor fabrication. According to my information, UMC pays annual dividends (most US companies generally pay quarterly), but since 2002, the dividend has varied between $0.01 to $0.19 per share, and three years show no dividend (2003, 2004, 2009). More research on this with your broker may be worthwhile.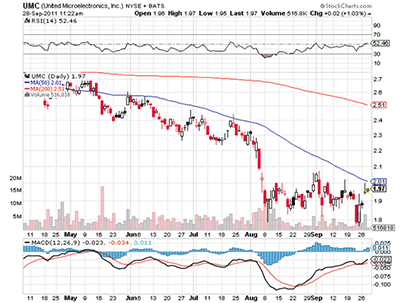 Click to Enlarge
Southern Copper Corp (SCCO) pops up as the third-highest yield in the screen. SCCO is involved in copper mining, smelting, and refining at properties in Peru, Mexico, and Chile. SCCO has paid dividends every quarter since 1996, but the amount has ranged from under $0.01 to as high as $0.66 per share.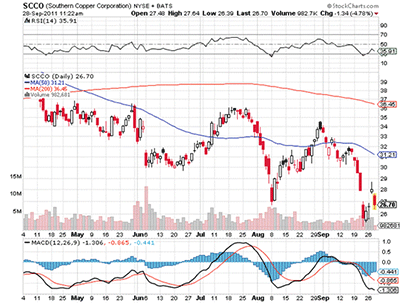 Click to Enlarge
AT&T (T), aka "Ma Bell" is next up, an iconic name that has over 250,000 employees worldwide. The stock's current dividend rate provides a yield of around 6%, and shares are basically flat on the year.
Going back to 1984, AT&T has paid a steadily (albeit slowly) rising dividend every quarter, with only a couple of minor blips up/down. The rate has climbed from $0.11 per share in September 1984 to $0.43 in the most recent 2011 quarter.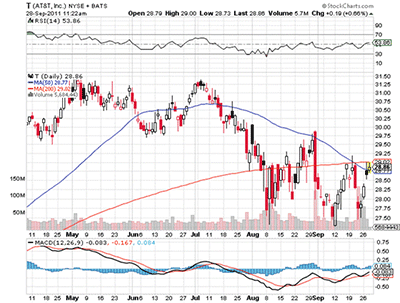 Click to Enlarge
NEXT: A "Sin" Stock with an Honest Dividend
|pagebreak|
Reynolds American (RAI) is a "sin stock" and the maker of such tobacco brands as Camel, Pall Mall, Winston, Kool, Natural American Spirit, Kodiak, and Dunhill, among others. This cigarette company was founded way back in 1875 in North Carolina.
Going back to 1999, RAI has paid a quarterly dividend which has never declined and has risen from $0.19 to $0.53 in that time frame.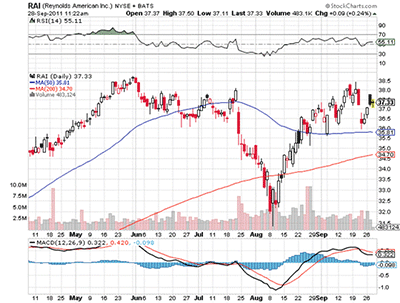 Click to Enlarge
Vodafone Group PLC (VOD) is a major global telecommunications company headquartered in the United Kingdom. It has approximately 370 million customers! The dividend stream in VOD shares going back to 1989 looks like the company generally pays twice-yearly dividends with exceptions of one or three payouts in the years 2006, 1999, 1994, 1993, and 1991.
It normally has a larger payout go ex-dividend in the spring, then a smaller ex-dividend in the fall of each year. Check with your broker for more details on this company's US dividend stream.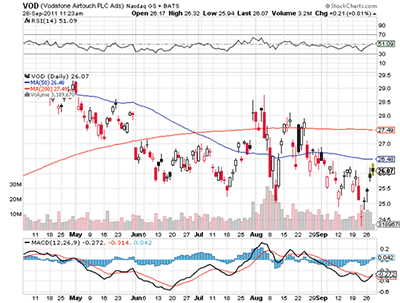 Click to Enlarge
SKM Telecom (SKM) is another telecommunications giant, this time in South Korea. SKM has strategic alliances with some other big global telecom firms including Orange, Telecom Italia, and T-Mobile International.
Some financial data on this company is missing from normal sources, so do your research. Current and historical dividend info on SKM is also spotty, although it looks generally to pay twice-yearly dividends since 1996 that have ranged between under $0.01 to $1.33 per share. If you're banking on the dividends, make sure to do your due diligence.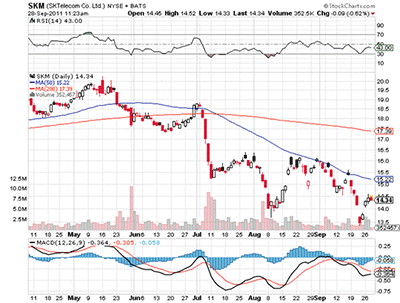 Click to Enlarge
NEXT: Promising Picks from Big Oil and Big Pharma
|pagebreak|
Statoil (STO) is a large Norwegian energy/oil exploration and production firm. Among other assets, STO has nearly 2300 gas stations in regions such as Scandinavia, Poland, Latvia, Lithuania, Estonia, and Russia.
STO pays an annual dividend, which goes ex-dividend in May each year. The payout since 2002 has risen from $0.33 to $1.10 per share, but it does go up and down (range is $0.33 to $1.69).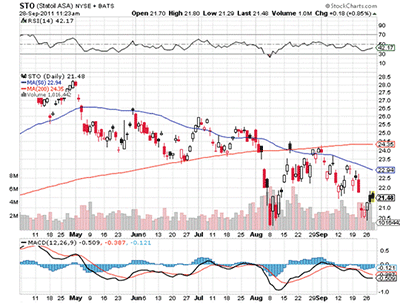 Click to Enlarge
Eli Lilly (LLY) rounds out the list of nine big-name, high-yielding stocks on this screen. The American pharmaceutical giant was founded in 1876 and makes such drugs as Cialis, Prozac, and Darvocet.
Going back to 1982, LLY has paid a dividend every quarter. The dividend cash amount has never lowered in this time frame, rising overall from $0.04 per share to $0.49 per share, however, it does look as if it's been stuck at the same $0.49 per share quarterly payout since 2009.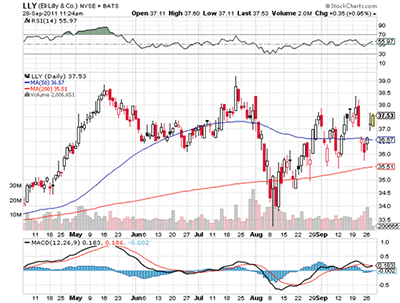 Click to Enlarge
Once again, this group as a whole has low P/E ratios, but there's usually a reason for that. In this case, the current sales growth and future expected earnings growth is middling for most of these nine stocks. They certainly could be considered "value" stocks, but one man's value is another man's garbage sometimes.
However, if you're looking for relatively "safe" yields that are beating the piddling amounts paid in money markets and from most government bonds, stocks such as these yielding 3%, 4%, or even 5%-10% (or more) can be a good place to start.
By Moby Waller of BigTrends.com