2 Big Growth Picks from Big Oil
11/02/2011 9:00 am EST
Focus: STOCKS
Standout earnings from two of the oil industry's major players signals tremendous upside potential ahead, writes Brittney Barrett, contributor to Equities.com.
Earnings from major oil companies have been less than impressive in spite of a considerable rise in profits resulting from high oil prices. The most recent earnings reports have revealed several oil and gas outfits that have come out stronger than competitors and could offer a strong potential upside in the remainder of the year.
Occidental Petroleum (OXY)
Occidental succeeded in surpassing Wall Street earnings expectations and increasing North American production, among the goals of many domestic oil and gas companies as the nation attempts to be more self-sufficient with energy creation.
Third quarter 2011 operating earnings added a massive 47.3%, to $2.18 per share from previous levels of $1.48 per share.
Occidental underperformed last quarter, which has depleted the share price by around 17% over the last six-month period. However, it's had a decent ride since the beginning of October (the last few days aside).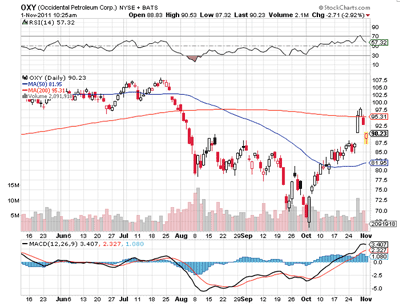 Click to Enlarge
Now, the company could have significant upside against many larger-cap competitors that underperformed in spite of a number of factors in their favor. Last week, OXY outperformed the larger sector as high domestic volume and plans to increase the number of wells drilled in California from 107 to around 154 has prompted more optimism on shares.
One analyst that covers that shares, Edward Westlake of Credit Suisse, projects that the stock may have as much as a 40% upside based on the new earnings.
NEXT: Chevron (CVX) Beats the Street
|pagebreak|
Chevron (CVX)
Like Occidental, Chevron impressed after beating Wall Street expectations during the third quarter. Net income for the company reached $7.83 billion, or $3.92 per share from previous levels of $3.77 billion in the year-earlier quarter. Revenue added 29.6%.
Here is a recent daily chart:

Click to Enlarge
Strong earnings and cash flow seemed to indicate the company was able to effectively leverage the higher price of crude, unlike many of its major competitors.
Additionally, Chevron's recent decision to develop the Wheatstone LNG projects was cited as a "major milestone" by the company's chairman and CEO John Watson. Watson believes that the Wheatstone development will continue to help supply strength by activating the massive energy resourced in their Australia interests and serve to help meet growing energy demand in the Asia-Pacific region.
Taking advantage of emerging market growth and the trend toward natural gas could be a boon for the company, especially as oil production looked a little light for the quarter.
One analyst surveyed by MarketWatch, Phillip Weiss of Argast, lauded the oil and gas company for the best unit profitability among the major competitors.
Between the two companies, though both had strong earnings, Occidental appears better positioned for growth given that they have fallen year to date, whereas Chevron is up nearly 17%. Additionally, Occidental's increased production and shale interests in South Texas and the Williston Basin are solid growth prospects that could help push it much higher from current levels.
By Brittney Barrett, contributor, Equities.com