Short Plays on 2 Big Industrials
11/11/2011 8:00 am EST
Focus: STOCKS
Technical signals have indicated potential short set-ups in two of the world's biggest heavy equipment makers. Here are the key levels to watch for each.
Heavy equipment manufacturer Caterpillar (CAT) ran higher from its October lows, taking after its ticker symbol, a wild animal chasing a meal. But now it has pulled back, tired from the run, and is looking more like an insect about to become part of the market's meal. Its running mate, Deere (DE), is not much better. Let's take a look.
Caterpillar (CAT) has been printing a series of topping candlesticks over the last ten days, starting with the two candles with long upper shadows piercing through the 200-day simple moving average (SMA) and then the "hanging man" candles more recently.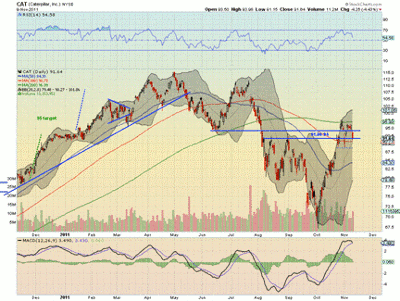 Click to Enlarge
Mid-week, CAT pulled back to the previous support area near $91.80 and has one level of support lower near $88.75 before it closes the gap lower to $87.50 and beyond.
The Relative Strength Index (RSI) is also pointing lower and the Moving Average Convergence Divergence (MACD) indicator is about to cross bearishly negative. This looks like a good short under $87.50.
See related: Demystifying the MACD Indicator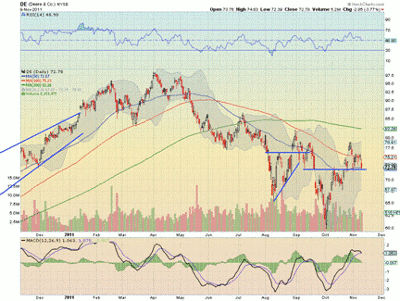 Click to Enlarge
Deere (DE) shows similar technicals. It sits on support at $72.40 near the 50-day SMA with an RSI that is about to cross 50 going lower and a MACD indicator that is crossing bearishly negative. If it breaks the blue support line, there is support lower at $69.20 followed by $67.
By Greg Harmon of Dragonfly Capital