A Buy That Practically Manages Itself
12/07/2011 9:00 am EST
Focus: STOCKS
A solid buy signal has flashed for communications stock NeuStar (NSR), and managing this long entry is as simple as placing a three-bar trailing stop and letting it run.
Shares of NeuStar (NSR) have been doing very well since making a major low on August 9, 2011. Since then, the stock has gone from a low of $22.24 all the way to $34.73 on December 2, 2011—a gain of more than 56%.
That's not bad at all, but NSR now seems poised to add on even more gains based on what we're about to examine on its daily chart below. Here's a closer look.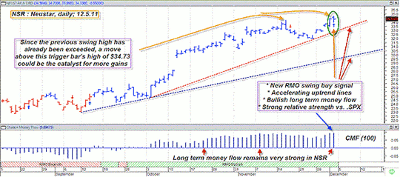 Click to Enlarge
No trade set-up has to work the way we desire, but it still pays to only trade the set-ups where the largest number of probabilities are in your favor. This daily chart of NSR has many attractive technical features that suggest that the odds are with the bulls on any rise above $34.73.
To even a novice technical analyst, this daily graph of NSR would surely be convincing evidence that the bullish trend in the stock is still alive and well. In fact, let's pretend we're all beginners in the field of analyzing stock charts and start with first things first:
At first glance, we would note the series of higher swing highs and higher swing lows, which are the basic ingredients needed to define the existence of an up-trending market.


Next, we would begin to plot a long-term trend line and then look to see if any newer lines could be plotted that would indicate that the trend was gaining momentum. Obviously, it is doing just that on this daily chart.


Once having confirmed that a strong trend was in force, a skilled technician would also look at the condition of the medium- to long-term money-flow situation. Again, in NSR's case, it's in a very bullish trend.


Finally, our beginning chartist might want to locate an objective, mechanical buy signal—one from a proven system based on sound principles. In the case of NSR, the RMO (Rahul Mohindar Oscillator) trading system from MetaStock has fired a long-entry set-up (as of the close on Friday, December 2, 2011), thus adding even more bullish confirmation to the other technicals mentioned.
Any rise above Friday's high of $34.73 is sure to attract more than its share of attention from serious traders and money managers, so that is certainly a price level to monitor in NSR going forward. The broad market still seems to be holding on to last week's gains, so that's another hopeful sign for those who may wish to attempt a long entry in NSR in the days ahead.
Since the previous swing high of $34.22 has already been exceeded, it doesn't seem to make much sense to set a profit target. No, in this case it might be a better idea to consider using a three-bar trailing stop of the daily lows as both an initial and a trailing stop until the trade finally makes a daily close below it. Trade management really doesn't get much simpler than that, does it?
By Donald Pendergast of Linear Trading Systems, LLC