Surging IPO with an "Ideal" Buy Point
01/17/2012 9:00 am EST
Focus: STOCKS
This young IPO is booking explosive gains already this year, and patient buyers who wait on a suitable pullback should be able to get in at an "ideal" entry point nearby.
InvenSense, Inc. (INVN) is up 20% since January 5, 2012, which followed a 9% gain that day from $10.90. The stock is up 33.43% since January 1, 2012, and 77.20% since the IPO on November 16, 2011. It's a young IPO moving on strong volume with a small float and a very interesting (in-demand) technology.
The ideal buy point for this young chart pattern is at $11.95, $0.10 above the high of the left side of the base (see chart below). The stock is currently extended from the buy point, so please be patient and wait for a new set-up or a pullback on lighter-than-average volume.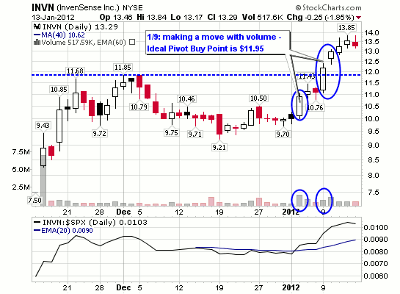 Click to Enlarge
I do not own shares at the time of writing, but I am looking to get in based on the analysis above. The stock shot up too quickly before I was taking it seriously. It now has my attention.
Note that the stock closed down 1.85% last Friday, and afterhours trading had it down another $1.13, or 8.50%.
From Yahoo! Finance:
InvenSense, Inc. designs, develops, markets, and sells micro-electro-mechanical systems (MEMS) gyroscopes for motion processing solutions in consumer electronics. The company delivers next-generation motion processing based on its advanced multi-axis gyroscope technology by targeting applications in video game devices, handsets and tablet devices, digital still and video cameras, digital television and set-top box remote controls, 3D mice, portable navigation devices, and household consumer and industrial devices. It sells its products to manufacturers of consumer electronics devices, original design manufacturers, and contract manufacturers through direct sales organization and non-stocking distributors worldwide. The company was founded in 2003 and is headquartered in Sunnyvale, California.
Here is a weekly chart: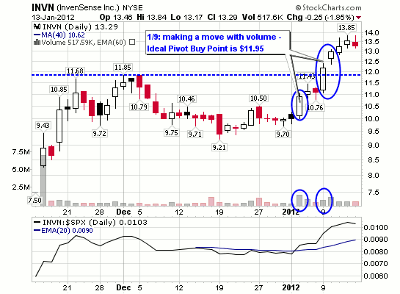 Click to Enlarge
Key Financials from 2011
Quarterly Period (10/2/2011) vs. Prior Period (7/2/2011)
Cash (bank funds): $57,740,000 vs. $44,877,000
Total Assets: $102,312,000 vs. $84,150,000
Total Equity: $82,431,000 vs. $69,320,000
Sales (income): $43,034,000 vs. $35,627,000
Gross Profit: $23,662,000 vs. $20,618,000
Net Operating Income: $14,799,000 vs. $11,731,000
Yearly Period (4/3/2011) vs. Prior Period (4/3/2010)
Cash (bank funds): $38,075,000 vs. $35,269,000
Total Assets: $70,746,000 vs. $54,450,000
Total Equity: $59,141,000 vs. $35,000,000
Sales (Income): $96,547,000 vs. $79,556,000
Gross Profit: $52,900,000 VS. $43,483,000
Net Operating Income: $21,478,000 vs. $21,971,000
As with any newer IPO stock, it will likely be very volatile. Be patient and stay disciplined with your stop orders.
By Chris Perruna of ChrisPerruna.com