5 Stocks About to Get Mauled by Bears?
12/25/2012 7:00 am EST
Focus: STOCKS
Reviewing a list of companies facing rising bearishness can be a good starting point for investment ideas, says Chris Lau of Kapitall.com.
In the technology space, short interest rose for five tech companies. In the table below, the companies with the highest percentage change in short interest to free float were: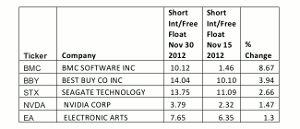 Click to Enlarge
Analysis
Investors interested in technology companies need to recognize that the sector is notoriously reactive to anticipation of weak market conditions ahead. Companies operating in a more mature phase of their business cycle could face further declines. Companies that are expensive (on a P/E valuation basis) could also face a sell-off, though improving macroeconomic conditions usually help shares recover. An investor could look at Amazon.com (AMZN) as an example of a company whose shares are up despite its valuation. Amazon trades at a P/E of 3,375, and a forward P/E of 141.59. Kapitall's Number Cruncher reports that the company's expected profit per share is $1.16. At recent a price of $249.19, Amazon trades at a Price of Profitability, or POP, of 215.
Investors are bearish growing increasingly bearish on Best Buy Co., Inc. (BBY). Best Buy's shares jumped above $14, only to fall to $12, after realizing a privatization of the company by its founder would take time. Best Buy is trading at close to its book value per share of $12.26.
Short-selling for hard drive maker Seagate Technology (STX) rose 2.7%. Its shares peaked in August at $34.86. After the flooding in Thailand, prices for hard disks dropped, so investors should expect the high margins in the last few quarters to shrink.
Bearishness in NVIDIA (NVDA) shares continues to be a mystery. NVIDIA has $5.50 in cash per share, started to pay dividends for the first time, and is increasing its focus on mobile processors. Investors could be anticipating sales in PC graphics cards will decline faster than profit margin growth in mobile processors.
Electronic Arts Inc. (EA), a company reviewed frequently on Kapitall, bottomed in August 2012 at $11. EA is still nearly 30% below its 52-week high, but investors are realizing that game makers continue to grow revenue. This comes despite growth in social networking games and freemium games for mobile devices.
Business Section: Investing Ideas
1. BMC Software Inc. (BMC): Develops software that provides system and service management solutions for enterprises in the United States and internationally. Market cap at $6.23B, most recent closing price at $40.18.
2. Best Buy Co. Inc. (BBY): Operates as a retailer of consumer electronics, home office products, entertainment products, appliances, and related services primarily in the United States, Europe, Canada, and China. Market cap at $4.07B, most recent closing price at $12.05.
3. Seagate Technology PLC (STX): Designs, manufactures, markets, and sells hard disk drives for the enterprise, client compute, and client non-compute market applications in the United States and internationally. Market cap at $10.44B, most recent closing price at $27.65.
4. NVIDIA Corporation (NVDA): Provides visual computing, high performance computing, and mobile computing solutions that generate interactive graphics on various devices ranging from tablets and smart phones to notebooks and workstations. Market cap at $7.87B, most recent closing price at $12.59.
5. Electronic Arts Inc. (EA): Develops, markets, publishes, and distributes game software and content for video game consoles, personal computers, mobile phones, tablets and electronic readers, hand held game players, and the Internet. Market cap at $4.67B, most recent closing price at $15.30.
Disclosure: Author has a long position in EA.
By Chris Lau of Kapitall.com