5 Stocks About to Get Mauled by Bears?
Focus: STOCKS
Reviewing a list of companies facing rising bearishness can be a good starting point for investment ideas, says Chris Lau of Kapitall.com.
In the technology space, short interest rose for five tech companies. In the table below, the companies with the highest percentage change in short interest to free float were: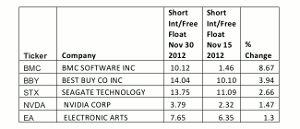 Click to Enlarge
Analysis
Investors interested in technology companies need to recognize that the sector is notoriously reactive to anticipation of weak market conditions ahead. Companies operating in a more mature phase of their business cycle could face further declines. Companies that are expensive (on a P/E valuation basis) could also face a sell-off, though improving macroeconomic conditions usually help shares recover. An investor could look at Amazon.com (AMZN) as an example of a company whose shares are up despite its valuation. Amazon trades at a P/E of 3,375, and a forward P/E of 141.59. Kapitall's Number Cruncher reports that the company's expected profit per share is $1.16. At recent a price of $249.19, Amazon trades at a Price of Profitability, or POP, of 215.
Investors are bearish growing increasingly bearish on Best Buy Co., Inc. (BBY). Best Buy's shares jumped above $14, only to fall to $12, after realizing a privatization of the company by its founder would take time.
!--start-->
---