7 Stocks to Keep on Your Radar
04/11/2013 7:00 am EST
Focus: STOCKS
The staff at Briefing.com puts together a list, which features names in their proprietary Focus List of the most liquid, high relative strength stocks in the market that are ideal for day and swing trading candidates.
The major indices have seen some distribution days here since April began and even more so in response to Friday's employment data. However, many names were sporting lofty run-ups the last few weeks and a "healthy" correction is key to reveal the "true leaders" pacing the way higher.
There were a plenty of warnings signs of this pending correction, namely the large increase in new high reversals/false breakouts among our leaders we've seen the last two weeks.
Those stocks collapsing aggressively on heavy volume, breaking through key support zones and uptrends, as well as 20- and 50-day moving averages warrant caution on the long-side.
Earnings season is also upon us with a number of stocks reporting between now into early May, so be sure to check the calendar for those dates.
Finally, be sure to take note of the deleted names that slipped off our list for the week. Unless they show some obvious or significant technical breakdown, it can often pay off to keep them on the radar. Sometimes names need a little longer "rest" or consolidation before resuming back up. In other cases, a little bit more of a pullback to the 50-day ma or longer-term uptrend line offers a better opportunity.
Chart Analysis
SPLK - Software/ITS leader jumps to the #1 spot on our Focus List this week. Mild pullback along its multi-month highs at $40, makes it one to keep on the radar for a breakout into higher ground.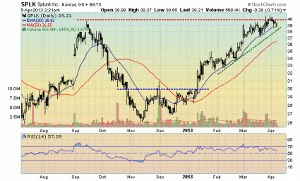 Click to Enlarge
CREE - A leading semi/electronics name pulls back off its March highs to challenge its 2-1/2 month uptrend line, the 50-day ma and its early March breakaway bullish gap.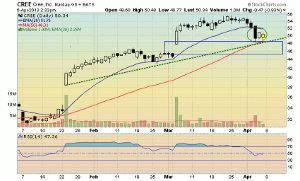 Click to Enlarge
FBHS - Home furnishing leader slides under the rising 50-day ma this week, but should be monitored for an attempted recovery in coming days.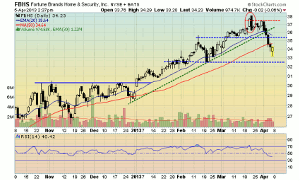 Click to Enlarge
STX - Computer storage name began to perk up in late March above its 50-day ma, suggesting it was ready to start moving higher again after a late-Jan/Feb correction. A mild pullback here in early April, keeps it on the radar for a breakout into higher ground over 37/38 resistance.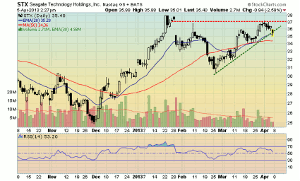 Click to Enlarge
SIG - Another name rejoining our Focus List after consolidating in a range the last two months. This week's pullback to its breakaway bullish gap and the 20-day ma is a bullish set-up if it can be maintained as a support zone.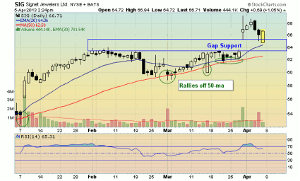 Click to Enlarge
RMD - Rejoins our Focus List after falling off back in late-Jan with its bearish gap. Holding up better than majority of the market here in early April, RMD has a bullish flag pattern that could be setting up for a breakout over 46.75/47.00 resistance.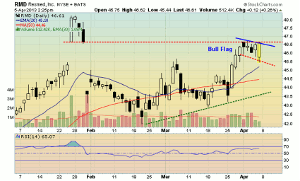 Click to Enlarge
AXLL - A leading chemical stock slides under its 50-day ma this week, making it one to watch if it can turn back up and recover lost ground. Note key gap support marked by the late-Feb breakout and March lows.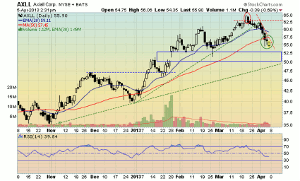 Click to Enlarge
NEXT PAGE: The 50 Most Liquid Stocks
|pagebreak|
Liquid Momentum Rankings
With equity markets always in motion and leadership rotating from one group to another, this list is designed to help active day and swing traders stay on top of the highest-quality trading names. It is generated from a proprietary algorithm that places heavy emphasis on superior relative strength vs. the all stocks universe, high average true range (ATR) values, and high average daily volume, among other data points. An updated list is published each Monday, along with charts and commentary throughout the week highlighting the most compelling set-ups and patterns.
ADDITIONS: ANF, AVY, CVS, HUM, JNJ, MON, PKG, RMD, TMK, UNH
DELETIONS: BA, BEN, CVLT, DISCA, DISCK, HSY, INFY, LAMR, LNC, WYN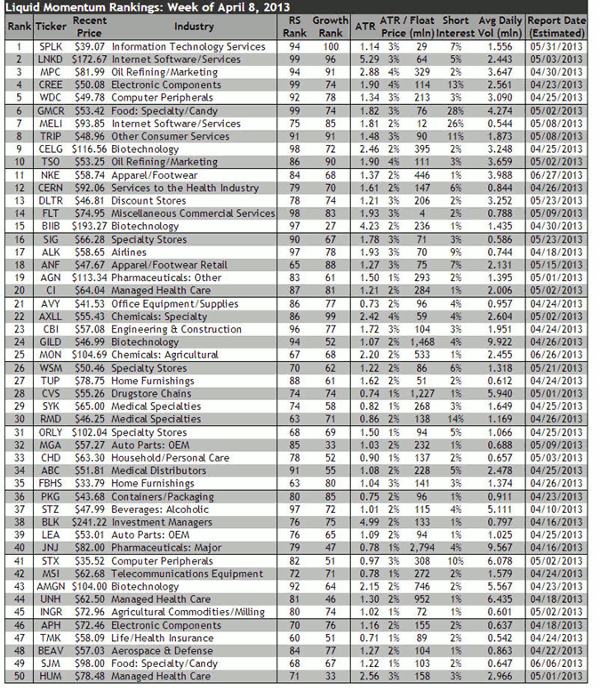 Click to Enlarge
Liquid Momentum is Briefing.com's proprietary Focus List for the 50 most liquid, high relative strength stocks in the market that are ideal for day and swing trading candidates.
By the Staff of Briefing.com