Hankering for a Burrito
09/12/2013 7:00 am EST
Focus: STOCKS
Although this Mexican food chain's stock price has risen 43% in the last nine months, Greg Harmon of Dragonfly Capital, examines whether there is still room to run.
Summer is over and I have a hankering to head to Chipotle (CMG) for a burrito. Before I order, though, let's check over the menu. The daily chart below shows a clear uptrend that has followed along with the market since the November lows. Outside of that little oops, the rising trend has not been meaningfully tested. That means this trend is strong. Tuesday's move over the short-term top from August 1 may be the catalyst to start a broader move. Out on the weekly chart there is still some work to get higher.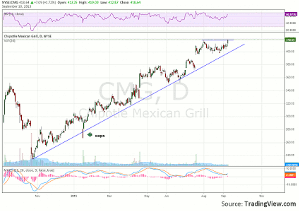 Click to Enlarge
The shark harmonic suggests that a solid move over the 423 area for the lower potential reversal zone (PRZ) gives an upward target of 463. But, if it can get into that realm, it will look very good from a monthly perspective.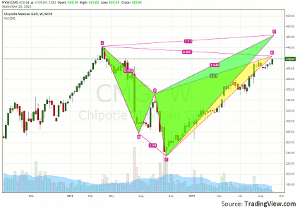 Click to Enlarge
A new all-time high creates a confirmation on an Elliott wave chart that anyone can draw with a target on Wave 5 measuring to 640 if it is equal to Wave 3. Don't like Elliot wave? Well, think of it as an AB=CD pattern (II-III=IV-V) and you still get to 640. It is not likely to go up in a straight line so don't bug me when it falls 20 dollars in two months' time.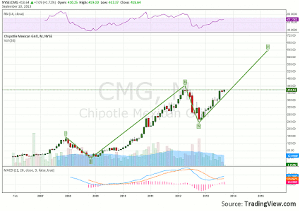 Click to Enlarge
Also, forget about your anxiety of the relative strength index (RSI) being near a technically overbought level. It moved from the 220s to 440 while being technically overbought for nearly two years. Let's get this burrito rolling.
By Greg Harmon of Dragonfly Capital