Chinese Stocks on Fire
10/18/2013 7:00 am EST
Focus: STOCKS
The market was right not to worry too much about the government shutdown; in fact the SP500 was up almost 3% during the shut down, writes Frank Zorilla of ZorTrades.com.
In situations like this is when it is best to tune out the noise and focus on what is happening.
The Chinese stocks continue to provide great opportunities if one is nimble and quick. We have been highlighting Chinese names everyday on the blog since September, but remember–all good things come to an end and the end is probably near for Chinese names just because the moves have become ridiculous. But we are going to dance until the music stops. GURE that we highlighted on 10/4, 10/9, 10/11, and 10/15 at one point was up yesterday 72% before settling down to close up 37%.
Some of the standouts from yesterday's watch list; CCCR +22%, AMCF +11.25%, SKBI +10.79%, LIWA +9.82%. Shocker, they are all China names.
Here are the Chinese names on the list today: CSUN, CCSC, JKS, SFUN, XUE, XRS, DANG, EJ, DATE, JASO, GAME, ACTS, and KNDI.
Quite a few miners had an inside day yesterday, I always pay attention when a very volatile group prints an inside day: TGB, SLW, SVM, DSLV, AEM, GG, and AG.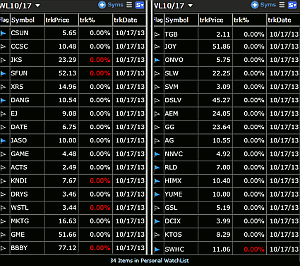 Click to Enlarge
The rest of the list: DRYS, CTCT, WSTL, MKTG, GME, BBBY, JOY, ONVO, NNVC, RLD, HIMX, YUME, GSL, DCIX, KTOS, SWHC, ZHNE.
These are what I consider very tight set ups that will trigger if they break yesterday's high. On a regular trading day I would indiscriminately take every trigger because you just don't know which one will be the big winner; you might have an idea but in the end you just don't know.
By Frank Zorilla of ZorTrades.com