The Return of Chinese IPOs
12/02/2013 7:00 am EST
Focus: STOCKS
The Alibaba and 58.com IPOs suggest that Chinese IPOs might be ready for a comeback, writes James Dennin on Kapitall.com.
The Chinese Craigslist—58.com (WUBA)—went public recently and moved up over 40% in a single day. It marks the fourth initial public offering (IPO) for a Chinese firm on US exchanges this year, a sign that the market might be more amenable to Chinese firms after cooling on them back in 2011.
Between 2009 and 2011, 67 Chinese companies began selling shares in the US, raising over $8 billion. Since then, less than a dozen have followed suit. Why the change? Part of the reason has to do with the difference in American and Chinese financial regulations.
Chinese firms are more regulated, but also not required to disclose as much information as they are here. Piling on top of that has been the difficulty for Chinese companies to adapt to certain American practices, like short selling.
Short sellers have been aggressive toward Chinese companies. Some say this is one of the main reasons why the Chinese IPO market has thawed so much over the past few years. Lately, IPOs were actually outnumbered by de-listings. But the admittedly modest number of IPOs this year suggests that trend might be starting to reverse yet again.
And then, of course, there was news earlier this fall that the tech giant Alibaba will be coming to New York as well—in what could potentially be one of the largest technology IPOs of the year. Alibaba was lured away from the Hong Kong exchange by an easier regulatory climate and the a better chance to preserve their corporate structure. This would have been forbidden under Hong Kong's protections for shareholder rights.
Although now rumors are stirring that Alibaba might stay local after all. Which raises the question—is the Chinese Craigslist here for just a casual encounter, or to start something serious?
We decided to look for investing ideas among other recent Chinese IPOs on US exchanges, and found just three stocks that debuted this year.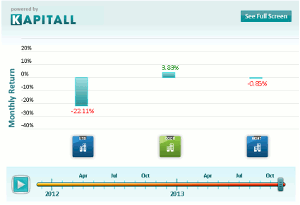 Click to Enlarge
Do you see investing opportunities in any of these Chinese firms that recently went public in the US? Use the list below as a starting point for your own analysis.
1. LightInTheBox Holding Co., Ltd. (LITB): Operates as an online retailing company. Market cap at $611.96M, most recent closing price at $9.23.

2. China Commercial Credit, Inc. (CCCR): Operates as a microcredit company in the People's Republic of China. Market cap at $100.79M, most recent closing price at $9.75.

3. Montage Technology Group Limited (MONT): Designs, develops, and markets various analog and mixed-signal semiconductor solutions for the home entertainment and cloud computing markets. Market cap at $389.51M, most recent closing price at $14.08.
Monthly returns sourced from Zacks Investment Research. All other data sourced from Yahoo! Finance.
By James Dennin of Kapitall.com