4 Stocks to Watch as QE Winds Down
12/23/2013 7:00 am EST
Focus: STOCKS
As the economy continues to improve, quantitative easing will also continue to decrease, so we took a look at the stocks to watch as interest rates rise, says Chris Lau on Kapitall.com.
Countries around the world have little reason to "taper." Japan's fiscal program will lead to flat growth at best and emerging markets are beginning to show signs of strain.
Meanwhile, China is enjoying a strong trade surplus. The lack of inflation risks and the forecast of mediocre GDP growth there suggests tapering will not be on the table. What should investors be doing next?
Hedge Funds Return Cash
Investment hedge fund managers with a solid track record are returning cash to investors. David Tepper will give back up to $2 billion, which signals that opportunities for better returns are getting harder to find in the markets. Seth Klarman plans to return $4 billion, and Dan Loeb is planning to return around 10% of assets managed to investors.
But What About Big Banks?
A higher deposit rate will make it harder for banks to grow return on equity. Interest rates are so low that revenue from the spread between loans and deposits are very thin. Citigroup (C) and Bank of America (BAC) may face higher deposit rates, but will find it harder to make profitable investments as the Volker rule was approved. Citi is valued at a forward P/E of 10, while Bank of America is valued at 12: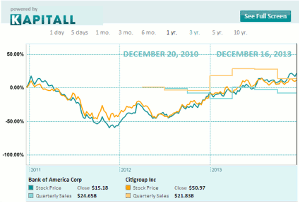 Click to Enlarge
As described by The Wall Street Journal, the Volcker rule places limits on banks that receive federal deposit insurance from making risky bets for their own profit.
Resource Sector Could Rebound
Strong exports from China mean demand for basic materials will be stronger. Iron ore, whose prices are stabilizing this year, could see higher demand. Cliffs Natural Resources (CLF) is down 37.6% in 2013, but the company is lowering expenses accordingly. Freeport-McMoRan Copper (FCX) entered the oil and gas sector last year. It provides investors with exposure to the energy sector and to copper.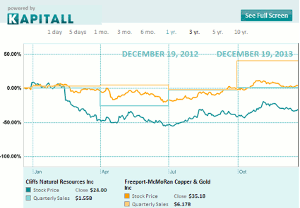 Click to Enlarge
Do you think tapering will create investing opportunities in resources or finance? Use the list below to begin your analysis.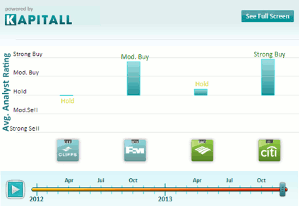 Click to Enlarge
1. Citigroup, Inc. (C): Provides consumers, corporations, governments, and institutions with a range of financial products and services. Market cap at $156.38B, most recent closing price at $50.97.
2. Bank of America Corporation (BAC): Provides banking and financial services to individuals, small- and middle-market businesses, corporations, and governments primarily in the United States and internationally. Market cap at $163.41B, most recent closing price at $15.18.
3. Cliff Natural Resources Inc. (CLF): Engages in the exploration, mining, and production of mineral resources. Market cap at $36.13B, most recent closing price at $34.34.
4. Freeport-McMoRan Copper & Gold Inc. (FCX): Engages in the exploration, mining, and production of mineral resources. Market cap at $36.13B, most recent closing price at $34.34.
All data sourced from Zacks Invesment Research.
By Chris Lau of Kapitall.com