What Happens When the Bears Take a Swipe?
10/10/2014 7:00 am EST
Focus: STOCKS
Technician Corey Rosenbloom, of AfraidToTrade.com, offers a market update and trending stock scan for Thursday, October 9 and breaks down exactly what happened, where he thinks we're headed now, and which stocks may likely still be the best candidates moving forward.
One thing's for sure…the market always keeps us on our toes.
The intervention rally Wednesday was short-lived as bears once again took a swipe at the market to create Thursday's intraday reversal (bearish) session.
Let's see what happened, where we're going, and which stocks may be the best candidates:

Click to Enlarge
The same divergences that correctly forecast Wednesday's big rally and reversal also forecast the top and likely reversal that set the stage for Thursday's session.
Momentum increased as price fell like a snowball rolling down a mountain, gathering strength (pressure) along the way.
Price remains in a downtrend in the context of the broader Fibonacci Retracement Levels.
We're waiting for another "Repeat Pattern in the S&P 500″ or else a failure of this pattern, which would likely set in motion a steep sell-off in shares.
Each day price does not impulse higher, it sets the stage for the "This Time Its Different" outcome.
Sector Breadth—like price—is showing very bearish indications: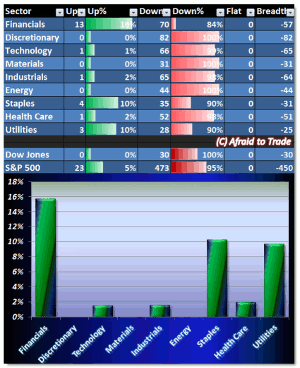 Click to Enlarge
The length of the bars above mask the broad-based selling in the market. Financials are the strongest sector of the day with only 16% of stocks higher.
There isn't much bullish evidence at all and we note that three sectors show all stocks trading lower with another three sectors having 2% of stocks trading lower.
This represents a decimation of buyers in an individual session (revealing strong money flow out of the market).
Very aggressive traders may look for a reversal and to play bullish stocks: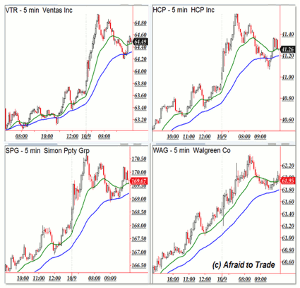 Click to Enlarge
Ventas (VTR), HCP (HCP), Simon Property Group (SPG), and Walgreen (WAG).
We should probably focus all our attention on bearish stocks (relative weakness):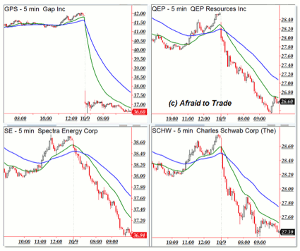 Click to Enlarge
Gap (GPS), QEP Resources, Inc. (QEP), Spectra (SE), and Charles Schwab (SCHW).
By Corey Rosenbloom, CMT, Trader and Blogger, AfraidToTrade.com