Surging Toward the 200-Day SMA Target
10/20/2014 7:00 am EST
Focus: MARKETS
Technician Corey Rosenbloom, of AfraidToTrade.com, charts the price movement of the Dow and the S&P 500 as they began to surge back to the underside of the broken 200-day SMA last week and points out what traders should focus on headed into this week.
As was generally expected, the market retraced higher after several down-days in a row took price to a key monthly support level (1,825).
Let's look at the current S&P 500 and Dow Jones charts and highlight the surge back to the underside of the broken 200-day SMA: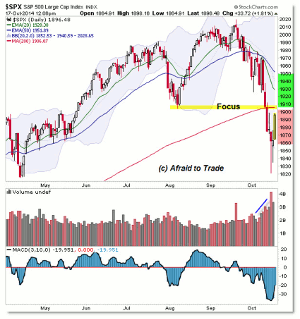 Click to Enlarge
On the breakdown under the confluence of the 200-day SMA and the August price low with the 1,900 "Round Number," the S&P 500 (SPX) index collapsed into a vacuum of buying until bulls supported the market aggressively off the 1,825 target.
Now, we see a logical bullish price pathway surging higher toward the underside of the 200-day SMA and this same confluence.
It should be our focus for planning the next swing in the market into this week.
Quite simply, a trigger-break above this level that continues above 1,910 suggests the index will continue a rally toward the 1,945 level (green highlight).
However, this is an inflection point to be monitored to determine if sellers once again strike the market into a critical resistance level.
We'll treat it similarly on the upside (testing resistance) as we did on the downside (testing support).
The Picture Is Similar in the Dow Jones Industrial Average: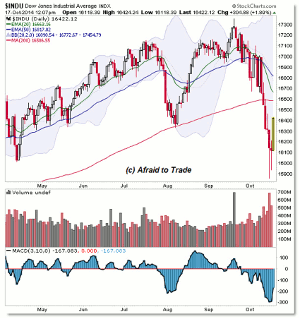 Click to Enlarge
We have a wider "Neutral Zone" for the Dow and it extends here at the 16,400 prior spike low from August into the 16,600 level which is roughly the 200-day SMA.
When price breaks through a key support or resistance level, it often comes back to test (or touch) the level to determine the supply/demand relationship.
Will sellers once again liquidate into resistance as they did on the break…or will buyers overcome the selling pressure to trigger a breakout and thus likely "short squeeze" above resistance?
That's the question we should be asking without bias as price returns to a key decision point on the chart.
By Corey Rosenbloom, CMT, Trader and Blogger, AfraidToTrade.com