Costco Is Pointing to Higher Markets
03/20/2015 7:00 am EST
Focus: STOCKS
Greg Harmon, of Dragonfly Capital, technically analyzes this members-only warehouse stock and he points out that the current price action suggests it may be time for traders to add to a position, or if they missed the opportunity in the past, to take a new one.
I like Costco. Who does not? You go shopping there to get a full basement full of stuff you want packaged neatly for a family of 12. It is our primary grocery store. And as if that was not enough, they have people around every corner serving you hors d'oeuvres to enhance the shopping experience. When you go to check out, there are not 15 open lanes with no cashier. Every one is manned and they ring you up in about 30 seconds.
You think there still must be a catch and finally see it as you go to leave. Someone wants to count everything in your cart to see what you have stolen. This could take forever. But apparently laid off NASA engineers are performing this job because that too only takes five seconds.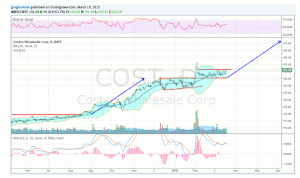 Click to Enlarge
I guess the one downside is that I never get out of the store without spending at least $300. But that is the good side too. You see, Costco's (COST) stock price has been tell for the strength of the market. The chart above shows that the stock moved sideways from early December until breaking higher to start February. But since then, it has pulled back into a consolidation channel, over the prior consolidation.
Sound familiar? I have had a position in this stock since it started moving higher, below 120. But the current price action suggests it may be time to add to that position, or if you missed the chance in the past, to start a position.
Since the beginning of March, the Bollinger Bands® have been squeezing. That started to change earlier this week as they are slowly opening to allow a move. This is as the price is pushing the top band higher and testing resistance at 151.50. As it holds over the 20-day SMA, the momentum indicators are turning more bullish.
The MACD has crossed up and is rising. The RSI has maintained the bullish range but is moving higher again as well. I am looking for a solid break above 151.50—as I stroll around the store eating bites of pizza and small yogurt cups—to add to positions.
By Greg Harmon of Dragonfly Capital