Relief Rally Continues—Market Update and Stock Scan July 16
07/17/2015 7:00 am EST
Focus: STOCKS
Technician Corey Rosenbloom, of AfraidToTrade.com, details how the relief rally in stocks continued Thursday, offers a market update, and shares a list of Thursday's strongest trending (intra-day) names, which he suggests could be candidates for pro-trend continuation.
The Relief Rally in stocks continued without ceasing Thursday, taking the index shy of another all time high.
What's going on now and what levels are important? Let's see: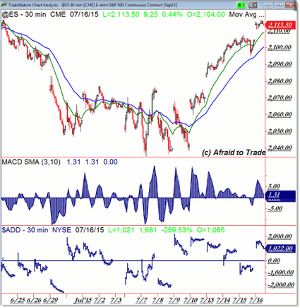 Click to Enlarge
Our ongoing Broader Narrative continues to be successful as the market simply continues to trade higher in the ongoing uptrend.
As we've been highlighting every day to members, price simply developed multiple Trend Days in an ongoing short-squeeze reversal up away from the higher time frame support level (the bottom near 2,040 in the @ES).
At the moment, we're watching 2,110 (@ES) and upwards toward 2,120 for short-term intraday plays.
Follow along with members for more precise daily planning, analysis, and education.
Let's see what our Breadth Chart reveals about current market strength (or weakness):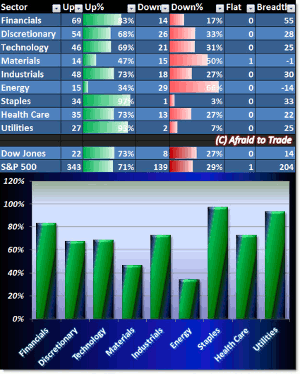 Click to Enlarge
The weakest two sectors in another bullishly-dominated day are the Materials and Energy sectors.
All other sectors enjoy strong positive breadth, though Staples (a defensive name)—along with Utilities—reveal Thursday's relative strength leadership.
That's actually not a resounding bullish signal (given that strength is in the defensive names Thursday).
Here are Thursday's strongest trending (intraday) names—candidates for pro-trend continuation: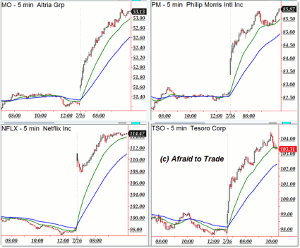 Click to Enlarge
Altria (MO), Philip Morris (PM), Netflix (NFLX), and Tesoro Corp (TSO)
Bearish downtrending candidates include the following stocks from our weakness scan: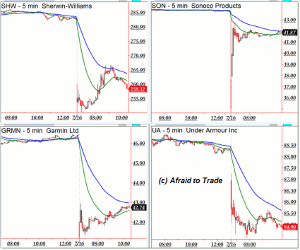 Click to Enlarge
Sherwin-Williams (SHW), Sonoco (SON), Garmin (GRMN), and Under Armour (UA)
By Corey Rosenbloom, CMT, Trader and Blogger, AfraidToTrade.com