Follow
About Stephen
Stephen Moore served as a senior economic advisor to Donald Trump and was a member of the President's Economic Recovery Task Force. He is the author of Trumponomics: Inside the America First Strategy to Revise Our Economy. Mr. Moore formerly wrote on the economy and public policy for The Wall Street Journal and served on the Journal editorial board from 2005-2014. From 2015-2017 he served as chief economist for the Heritage Foundation. He is the founder and former president of the Club for Growth, which raises money for political candidates that favor free-market economic policies. Mr. Moore has served as a senior economist on the Congressional Joint Economic Committee and as a senior economic fellow at the Cato Institute, where he published dozens of studies on federal and state tax and budget policy. He is the author of five other books including The End of Prosperity. Mr. Moore received the Republican National Committee award of Great Communicator. He was named by Worth Magazine in 2019 as one of the top 50 influencers in global financial affairs.
---
---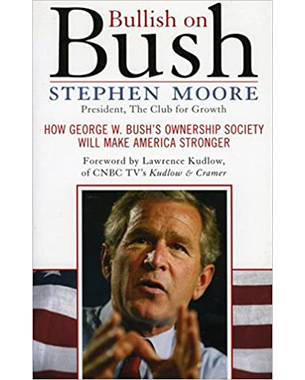 Stephen Moore
Bullish on Bush: How George Bush's Owenership Society Will Make America Stronger
In a spirited and compelling fashion, Bullish on Bush sets the record straight on the stunning success of President Bush's tax cut policies. It also provides the first comprehensive analysis of George W. Bush's bold second term economic agenda to create a broad-based Ownership Society in America and explains how Bush's tax relief policies have helped the ec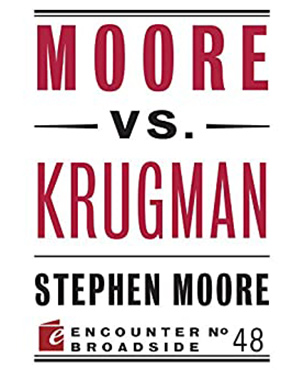 Stephen Moore
Moore vs. Krugman
What happens when a leading conservative economist goes mano a mano with today's most influential exponent of left-liberal economics, over free markets versus government interventionism? Here are highlights of that showdown between Stephen Moore of the Heritage Foundation and Paul Krugman, Nobel laureate.