Follow
About Juan
Juan Maldonado is a professional trader, speaker, writer, and mentor. He is a technical analyst, with exceptional skills in the Elliott Wave principle. Since 2010 Mr. Maldonado has been helping traders accelerating their learning curve with a practical and unique methodology.
---
Learn how to find when the price is low or high with the volume profile of the market along with the Elliott Wave cycles. It is a powerful combination to spot the best market entries and exits. Works on any market and timeframe. Attendees will get a FREE surprise at the end of the webinar.

Learn the Elliott Wave basics and forecast the next big market move. Juan Maldonado, analyst and trader with Elliott Wave Street, presents examples of real setups found in their daily analysis. You can use this valuable technique in any market!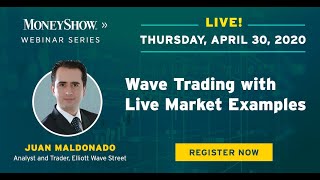 In this Elliott Wave presentation, analyst and trader Juan Maldonado, will teach you how to use the Elliott Wave analysis to find high probability trades. Learn how to validate the end of the waves with simple price action techniques. Also, you will get to look at the live markets and find current trading opportunities along with medium- and long-term forecasts. This webinar is for the Equities, Options, Forex, and Futures trader.