Follow
About Anthony
Anthony Scaramucci is the founder and co-managing partner of SkyBridge Capital and the author of four books including Hopping Over the Rabbit Hole (a 2016 Wall Street Journal best seller.) In 2016, Mr. Scaramucci was ranked #85 in Worth Magazine's Power 100: The 100 Most Powerful People in Global Finance. In 2011, he received Ernst & Young's Entrepreneur of the Year - New York Award in the financial services category. Prior to founding SkyBridge in 2005, he co-founded investment partnership Oscar Capital Management, which was sold to Neuberger Berman, LLC in 2001, and earlier was a vice president in private wealth management at Goldman Sachs & Co.
---
Global governments stepped in with historic stimulus and central bank accommodation to lessen the economic blow of the Covid-19 pandemic. There is no end in sight for the era of easy money, while domestic divisions in the United States threaten to boil over. In this session, Anthony Scaramucci, founder of global investments firm SkyBridge Capital, discusses his view on the future of American politics and how it could inform investors asset allocation mix for the next decade.

In this session, Anthony Scaramucci will share his views on the evolution of American government and how changes will affect your investment portfolio. He will share anecdotes about his experience working with and then against President Trump, opinions on the direction of the Biden administration with a Democrat-controlled Congress, and the types of investments he believes will thrive in this new era of American politics, with a focus on technology, hard assets, and digital assets.

---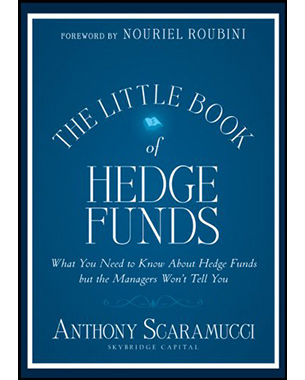 Anthony Scaramucci
The Little Book of Hedge Funds: What You Need to Know about Hedge Funds But the Managers Won't Tell You
An accessible overview of hedge funds, from their historical origin, to their perceived effect on the global economy, to why individual investors should understand how they work, The Little Book of Hedge Funds is essential reading for anyone seeking the tools and information needed to invest in this lucrative yet mysterious world.