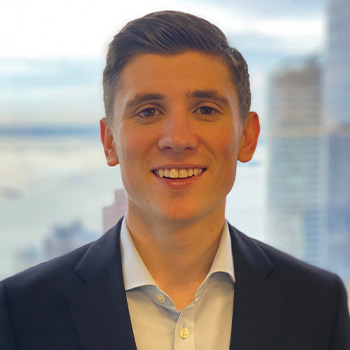 OPTIONS
US Options Senior Analyst,
Nasdaq
Follow
About Seamus
Seamus Scaring serves as a senior analyst focused on building and managing Nasdaq's index options product suite, including Nasdaq 100Index Options - NDX, NQX, and XND. Tasked with leading Nasdaq's retail and advisor businesses, he is responsible for conducting customer research, managing partner relations, and utilizing data analytics to help bring new products to market. Prior to joining Nasdaq's options team in 2018, Mr. Scaring spent time in business and trading roles with Catalant Technologies and Next Level Derivatives. He graduated with a BA from Boston College.
---
Join Nasdaq's Seamus Scaring as he explores the transformation from self-directed to advisor-based investment styles. As Millennials amass more wealth, they look to professionals like Elite Wealth Management's Fariba Ronnasi, Merrill Lynch's Frank Fiore and others for portfolio expertise.

Join Luke Rahbari, CEO of Equity Armor Investments, and Seamus Scaring, senior index options analyst at Nasdaq, as they discuss current market themes, such as the risk associated with fixed-income products if rates move, where the market is going in 2022, and the use of Nasdaq-100 index options for yield and exposure protection.

From the retail investor appetite for micro-options contracts to the benefits of utilizing index options, explore strategies to incorporate new investment vehicles into your portfolio.