One High-Yielding Commodity Play
02/01/2011 9:58 am EST
Focus: COMMODITIES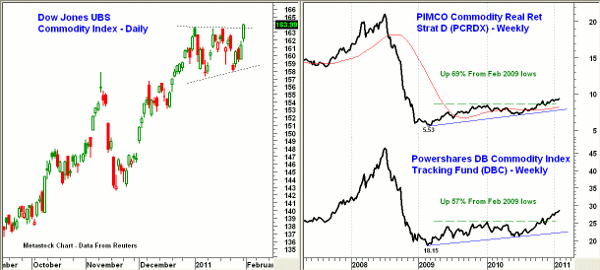 Click to Enlarge
Skyrocketing oil prices helped to push the Dow Jones UBS Commodity Index higher on Monday as the daily chart shows a breakout from its recent trading range. Obviously, commodity prices have been on a tear since the 2010 lows and the commodity index is up 15% from the November lows. Is it too late to invest in commodities?
Chart Analysis: The breakout in the Dow Jones UBS Commodity Index has initial targets at 165 with important resistance in the 170 area, which is the major 50% retracement resistance from the 2008 highs at 238.
First support is now in the 158-160 area


A weekly close below 155 would suggest a drop to major support at 143-148
The PIMCO Commodity Real Return Strategy D Fund (PCRDX) bottomed in 2009 at $5.53 and closed at $9.36. Its benchmark is the Dow Jones UBS Commodity Index and it does not invest directly in commodity futures. From its prospectus "The fund seeks to achieve its investment objective by investing under normal circumstances in commodity-linked derivative instruments backed by a portfolio of inflation-indexed securities and other fixed-income instruments." Obviously, you should read the prospectus before investing.
The daily chart shows a short-term breakout like that of its benchmark. The breakout level is at $9.26 with further support in the $9.00 area


There is weekly support at $8.30-$8.50


The major 38.2% resistance level is at $10.50
The Powershares DB Commodity Index Tracking Fund (DBC) is a widely followed and liquid ETF that tracks the changes in the Deutsche Bank Liquid Commodity Index. It reached a low of $18.15 in early 2009, closing Monday at $28.53 for a 57% gain. The chart looks similar to that of PCRDX except that DBC has gained 5% more since the November 2010 lows.
The 38.2% retracement level resistance is at $29.10 with the 50% level at $32.50


Short-term support is at $28 and additional support lies in the $26.90-$27.40 area


Major retracement support is at $25-$25.80
What It Means: The breakout in the Dow Jones UBS Commodity Index is clearly a short-term positive for commodity prices and the longer-term technical picture still suggests we are in a major uptrend. This is a bull market that could last several more years, so this asset class should be considered for at least a small part of all diversified portfolios.
How to Profit: PCRDX has exceeded the performance of DBC since the 2009 lows due to its yield component, as its yield is currently over 9%. The expense ratio is around 1.24%, which is higher than the 0.81% for DBC. The minimum investment for PCRDX is $1000, but it then allows subsequent investments as low as $50 and many brokerage firms do not charge a transaction fee. Fees for investing in DBC are similar to those of most other ETFs.
For a longer-term investment theme, I prefer PCRDX and would recommend an initial investment when PCRDX has corrected 3% from its most recent highs (pricing is available on most sites). I then would invest enough monthly over a six- to 12-month period to bring PCRDX up to 3%-5% of your portfolio. The monthly amounts should be roughly equal.
DBC is a tougher call as I see it as more of a trading vehicle, and while a move to the $31-$32.50 area is likely over the next few months, I see no favorable risk/reward entry at this time.
Tom Aspray, professional trader and analyst, serves as senior editor for MoneyShow.com. The views expressed here are his own.