A Sweet Spot for Health Care
03/07/2011 10:15 am EST
Focus: STRATEGIES
As the stock market continues to make new highs, this traditionally defensive sector is once again coming to the forefront and looks good from a technical perspective.
Since mid-January, I've been looking for a breakout in the S&P Health Care Sector that was finally achieved last week. My stock pick at that time, DaVita Inc. (DVA), continues to do well, and there now appears to be a good opportunity in another health care company, United Therapeutics Corporation (UTHR).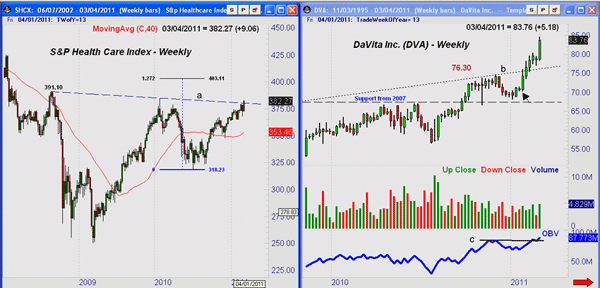 Click to Enlarge
Chart Analysis: The S&P Health Care Index closed near its highs last week, decisively breaking through major resistance, line a. The Health Care Select Sector Spyder (XLV) tracks this sector and confirmed the breakout on the highest volume since last July.
The 127.2% upside target for the health care sector is at 403.11, which is about 5.5% above current levels. For XLV, the corresponding target is at $34.85


The early-2008 highs for the sector are at 425.26 and at $36.61 for XLV


There is first good support for the Health Care Sector in the 368-378 area with more important support near 365. XLV has support at $31.87-$32.56
DaVita Inc. (DVA) exploded to the upside last week, closing at $83.76. Five weeks ago, DVA broke out above its upper trading channel. The completion of the multi-year trading range has upside targets in the $90-$93 area.
In January, DVA dropped down to test the breakout level dating back to 2007. When this former resistance was overcome, it then became good support


With DVA up 6.6% last week, there is minor support now at $78.40-$80.40 with good support on the weekly chart at $78 and then in the $75-$76 area (line b)


The daily volume was strong on Friday and both the daily and weekly on-balance volume (OBV) have confirmed the recent price surge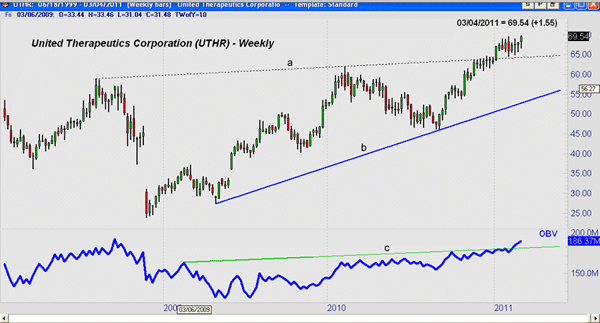 Click to Enlarge
United Therapeutics Corporation (UTHR) is a biotechnology company that develops and markets products for life threatening as well as chronic diseases.
The weekly chart shows of UTHR shows that it overcame long-term resistance (line a) the first week of January. It has since traded between $64.50 and $69.48


UTHR closed near the highs last week, and the recent breakout has upside targets in the $80-$85 area


The weekly OBV has surged to new highs, overcoming resistance at line c. This suggests that UTHR may be closer to breaking out of its recent trading range. The daily OBV (not shown) is also positive


Minor support is now at $68.50 with further support at $67.50
What It Means: The bullish action of the health care sector suggests it may be one of the best-performing sectors over the next few months. Many of the large health care companies are also flush with cash, so we could see more M&A activity in this group. If you are looking for new candidates to invest in or trade, this sector should be on your radar.
How to Profit: In January, I recommended buying DVA at $70.26-$70.66 with a stop at $67.17. My first upside targets were $75.30 and $76.30. Then, in early February, I recommended selling half of the position at $76.66 for an 8.5% profit. I would now raise the stop on the remaining half of the position to $77.33.
At the same time, I recommended buying Becton Dickinson and Co (BDX), but by the time the article was published, it was trading below my stop at $80.82 on disappointing revenues and guidance. It has since declined as low as $78.57 and shows no signs yet of bottoming.
United Therapeutics Corporation (UTHR) looks ready to spring out of its seven-week trading range. I would look to buy UTHR between $67.96 and $68.48 with a stop at $64.27 for an approximate risk of just over 6%.