Grabbing High Yields Overseas
08/10/2011 10:15 am EST
Focus: STOCKS
Despite the market turmoil, these global utility stocks are still trending higher and pay sizable dividends, making them much better alternatives to low-yielding Treasury bonds.
The stock market action on Monday and Tuesday suggests that a panic low may now be in place and that this week's lows could hold for some time. Even if this is the case, some backing and filling with further wide swings is likely over the next few weeks.
In this environment, and with the prospects of low rates lasting until 2013, I continue to favor high-yielding utility and drug stocks. One of these global utility picks yields over 8%, but let's first look at the recent market action.
The Fed's statement on Tuesday's afternoon added to what was already one of the all-time most volatile days in terms of swings in the S&P futures, as there were five 40-plus-point swings in just one day of trading.
The closing Advance/Decline (A/D) numbers were impressive with 3664 advances versus just 512 declining issues. This caused a sharp reversal in the McClellan Oscillators, which rose from very oversold levels at -440 to just -65.
The A/D lines have turned up but now need to start new uptrends to confirm a significant market low. The S&P 500 could rally further to the 1200-1220 area before we get a decent setback. The S&P futures were down 15 points in early trading Wednesday.

Click to Enlarge
Chart Analysis: TransAlta (TAC) is a $4.6 billion, non-regulated Canadian utility company that has been based in Calgary, Alberta since 1911. It currently yields 5.9% and its short ratio of 23.4 makes it even more attractive. This ratio means that it will take 23.4 days of normal trading volume to cover the large short position in TAC.

The weekly chart shows a broad trading range, lines a and b, with resistance at $22.66 and support at $19.64 (this week's low).
There is initial resistance now at $20-$20.40
The downtrend in the relative performance, or RS analysis, which goes back to early 2010, line d, has been broken. There is further resistance at line c
The weekly on-balance volume (OBV) has turned up and is trying to move back above its weighted moving average (WMA). It is well above its uptrend, line e
TransCanada Corp (TRP) is also located in Calgary but is a much larger ($23.4 billion) gas utility company. The stock closed up 5.7% on Tuesday on volume that was more than four times the three-month average. It currently yields 4.5%.
The weekly uptrend, line f, at $37.94 was broken this week with Monday's low at $37.29
The RS line has turned up sharply and shows a solid uptrend, line g
The weekly OBV will turn up with a higher weekly close (above $39.31). The daily OBV (not shown) has turned up but is still negative
There is first strong resistance at $40.66 and then further resistance in the $41.50-$42 area
NEXT: Two More High-Yielding Global Utility Stocks
|pagebreak|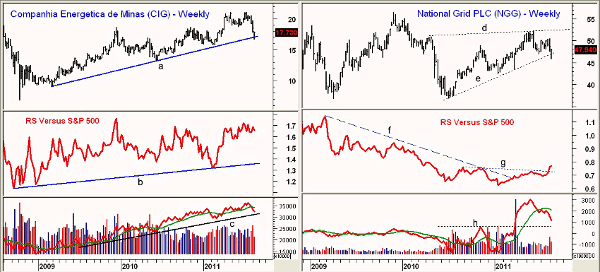 Click to Enlarge
Companhia Energetica de Minas Gerais (CIG) is the largest combined generator and distributor of power in Brazil. It has a market capitalization of $12 billion and has a current yield of 6.4%.
On Monday, CIG dropped below the weekly uptrend that goes back to 2009, line a
Once below this week's low at $16.61, next support is at $15.71, which corresponds to the February 2011 lows
The RS line has been locked in a narrow range over the past two months but is still well above its longer-term uptrend, line b
The weekly OBV is below its weighted moving average but is still holding well above the longer-term support at line c
There is initial resistance now at $18.60 with stronger resistance in the $19.40-$19.70 area
National Grid PLC (NGG) owns and operates gas and electricity networks in the United Kingdom and the US. It is a $33.6 billion company whose revenue has been growing by an annual rate of 7%. The stock currently yields 8.2%.
The uptrend from the 2010 lows at $36.67, line e, was violated this week
Initial support is at this week's low of $45.40 with more important support at the March lows of $43.41
The RS line moved through its downtrend, line f, in March. It has now moved above the resistance at line g, completing the bottom formation
The weekly OBV staged an impressive breakout early in 2011 and is still acting stronger than prices. It is now below its weighted moving average while the daily OBV (not shown) is positive
NGG closed at first resistance on Tuesday with further resistance in the $49.50- $50.50 area
What It Means: All four of these global utility companies tested major support this week and their weekly uptrends are still intact.
The surge into the Treasury market has pushed bond yields to record lows, which given the current inflation rate makes them less attractive than other income sources. Each of these stocks have very attractive yields and are in a sector that, historically, is less volatile than most.
How to Profit: Since a market low has not yet been confirmed, controlling risk is still a factor. Therefore, I am recommending fairly standard stop placement to limit the damage should we see another downdraft.
TransAlta (TAC): Go long at $20.42 with a stop at $19.18 (risk of approx. 5.8%).
TransCanada Corp (TRP): Go long at $38.88 with a stop at $36.06 (risk of approx. 7.2%).
Companhia Energetica de Minas Gerais (CIG): Go long at $17.36 with a stop at $16.13 (risk of approx. 7.1%).
National Grid PLC (NGG): Go long at $46.92 with a stop at $43.18 (risk of approx. 8%).