It's the Hot Season for Fertilizer Stocks
12/08/2011 11:20 am EST
Focus: STOCKS
The winter months represent the seasonal strong period for fertilizer and agricultural chemical stocks, and two industry leaders are showing favorable entry points now.
As discussed in "The Four Key Seasonal Trends for 2012," research has shown that that many markets show repeating seasonal tendencies. While these tendencies do not override the price behavior, buying technically strong markets during strong seasonal periods can give traders and investors an additional edge.
As the charts indicate, this is the strongest seasonal time for fertilizer and agricultural chemical stocks, and the weekly bottoming action in two of the key fertilizer stocks makes the risk favorable on new long positions.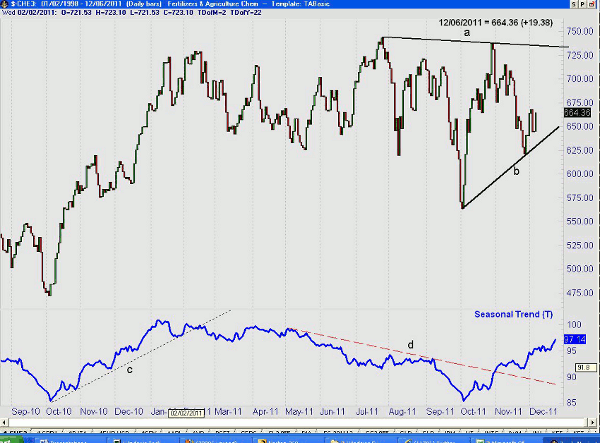 Click to Enlarge
Chart Analysis: The daily chart for the Fertilizer & Agricultural Chemical Index peaked in July at 743 before plunging to an October low of 563.80. This was a drop of 24%.
Daily chart shows a steep uptrend, line b, from the October lows
Next resistance is at 680-700 with major resistance in the 725-735 area, line a
The strongest seasonal period for this industry group lasts from early October through early February
This was clearly the pattern in 2010, as indicated by line c. The uptrend was broken in early February
This sector typically drifts lower in the spring and continues to decline (line d) into an August or September low
NEXT: 2 Fertilizer Stocks with Risk-Controlled Entry Points
|pagebreak|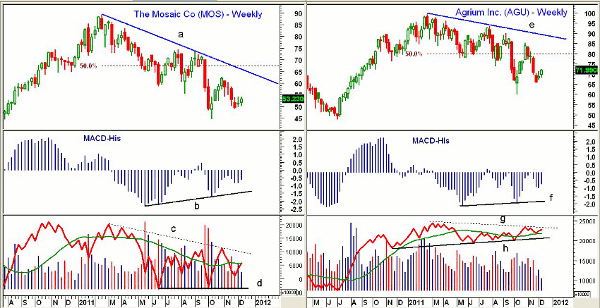 Click to Enlarge
Mosaic Company (MOS) peaked at $89.24 in February 2011 and hit a low in October of $44.86, which was a drop of just under 50%. Two weeks ago, MOS made a low of $49.08, which appears to be holding.
First weekly resistance is at $60.50 and then at $62.65. The major 50% Fibonacci retracement resistance is at $67.30
As mentioned previously, I like the MACD-Histogram (MACD-His) best on the weekly data, and for MOS, it shows a six-month positive divergence, line b
A strong move in the MACD-His above the zero line in the next few weeks will be consistent with a major low
Weekly on-balance volume (OBV) did not confirm the February highs and shows a well-established downtrend, line c
Weekly OBV did not make new lows with prices in October (line d) and could close above its weighted moving average (WMA) this week
Short-term support stands at $51.50-$52.50 with stronger support below $50
Agrium Inc. (AGU) peaked in February at $99.14 and spent the next eight months declining. The stock reached a panic low of $60.15 in early October.
AGU is holding above its recent lows at $65.68 with initial resistance in the $80 area, which was the 50% retracement resistance level
The 61.8% resistance level is at $84.50 with the weekly downtrend (line e) at $89.50
The MACD-His formed a positive divergence at the lows, line f, but looks ready to turn up this week
Weekly OBV is acting much stronger than prices, as it formed higher lows, line h, and moved back above its weighted moving average in early October
OBV is very close to breaking through the resistance at line g
Daily MACD-His and daily OBV have just turned positive
What It Means: The strong seasonal trend of the fertilizer and agricultural chemical stocks combined with the weekly technical readings—particularly for Agrium Inc. (AGU)—favors new long positions. Stops under the late-November lows make the risk well controlled.
How to Profit: For Mosaic Company (MOS), go 50% long at $52.46 and 50% long at $51.84 with a stop at $48.82 (risk of approx. 6.3%). Sell half the position at $58.86.
For Agrium Inc. (AGU), go 50% long at $71.52 and 50% long at $69.80 with a stop at $64.82 (risk of approx. 6.3%).