Have Stocks Formed a Major Top?
Focus: ETFs
The increasingly contentious tone regarding the debate over the fiscal cliff along with new tensions in the Middle East battered an already weak stock market on Wednesday. MoneyShow's Tom Aspray takes a look at key market levels investors should watch.
The stock market's attempt to stabilize failed Wednesday afternoon as investors apparently felt that after President Obama's press conference it will be more difficult to avoid the fiscal cliff.
The news that the Hamas military leader was killed in an air strike also likely pressured stocks in the last two hours of trading. The threat of a broadening conflict will continue to worry the market and add to pressures to the fiscal cliff.
In addition, we have a host of economic reports Thursday, as in addition to the jobless claims we get the Consumer Price Index, Empire State Manufacturing Survey, and the Philadelphia Fed Survey. It is unlikely that any of the reports will have enough of an impact to turn the market around, but if they are better than expected they could stem the selling.
The more important question for investors and traders is how much lower the major averages are likely to go before they can bottom out. Many would be surprised to learn that in percentage terms the current decline has not yet been as severe as last spring's correction.
The technical evidence does not yet suggest that a major top is in place but a significant drop below last spring's lows will weaken the outlook. Therefore the current market decline should present some good buying opportunities, but I would not be aggressive until there are signs that the market is stabilizing.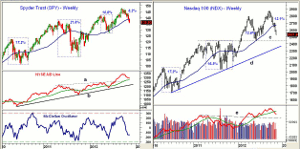 Click to Enlarge
Chart Analysis: The weekly chart of the Spyder Trust (SPY) is currently trading below the 40 week moving average (MA), which is at $138.06.
!--start-->
---