Will MSFT Follow GOOG or AAPL?
Focus: STOCKS
Better-than-expected results from bellwether tech companies kept the rally intact despite Apple disappointing, as MoneyShow's Tom Aspray takes a closer look at the opportunities in the sector.
The focus Wednesday was on the tech sector as the much better than expected earnings from International Business Machines (IBM) and Google, Inc. (GOOG) helped to keep the major averages in positive territory.
The SPDR Dow Jones Industrial Average (DIA) closed well above the September highs and is now just 3.2% below the all-time high of $141.95. IBM makes up just over 11% of DIA so its 4.4% gain was a big factor. As I noted yesterday I am not currently concerned that the Dow Industrials have not yet confirmed the new highs in the Dow Transports.
The weekly technical outlook for the Powershares QQQ Trust (QQQ) is still negative though it got a boost yesterday from both Google, Inc. (GOOG) and Apple Inc. (AAPL), which make up 6% and 15% of QQQ. Today could be a different story as AAPL was down 10% in after-hours trading in reaction to its earnings disappointment.
Later today Microsoft Inc. (MSFT) reports its earnings and then next week we get the earnings from Amazon.com Inc. (AMZN). They make up 7.3% and 3.8% of the QQQ respectively, but are they going to follow Google Inc. (GOOG) or Apple Inc. (AAPL)?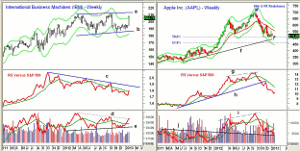 Click to Enlarge
Chart Analysis: The strong action in International Business Machines (IBM) suggests that the weekly trading range, lines a and b, is likely to be resolved to the upside.
IBM is already back to its weekly starc+ band with next major resistance in the $211.80-$212.80 area.


A completion of the trading range would give upside targets in the $248-$254 area.


The weekly relative performance looks ready to close above its WMA this week.


A move in the RS line above the resistance at line c, will signal that IBM is now a market leader.


The weekly on-balance volume (OBV) looks even stronger as it is very close to breaking through its resistance at line d.


The OBV has been above its WMA for the past few weeks after holding support at line e.


IBM gapped above its quarterly pivot at $197.54 on Wednesday with further support at $196.35.


Apple Inc. (AAPL) is trading around $467 two hours before the NY opening on Thursday, which is down over 9% from Wednesday's close.
!--start-->
---