This Asset is Ready for a Rest
05/22/2013 10:35 am EST
Focus: STOCKS
Sector rotation strategies build upon the logic that some sectors are stronger than others at key points in the market and economic cycle, and MoneyShow's Tom Aspray identifies one sector that is ripe for a correction.
As the stock market continued to grind higher, some lagging industry groups have started to join the party as many have started to catch up with the overall market. Many of the coal stocks had sharp gains Tuesday as the Nonmetallic Mineral Mining group gained over 3%.
In early trading, the stock index futures are trading higher and the NYSE Advance/Decline has continued to make new highs confirming the higher prices. Many stocks, as noted Monday, are trading above both the weekly and monthly starc+ bands making them high-risk buys at current levels.
Also, some of the stocks in the hottest sectors are starting to show signs that they are topping out as investors are trying to lock in some profits and buyers are looking elsewhere. One top group, the DJ US Asset Manager Index is up 29.7% for the year versus a 14.4% gain in Spyder Trust (SPY).
A technical look at some of the key asset manager stocks reveals why now may be a good time to take some profits as a 5-8% correction would just take them back to support.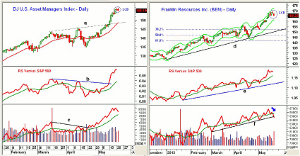 Click to Enlarge
Chart Analysis: The daily chart of the DJ US Asset Manager Index triggered an LCD Tuesday as it closed at 155.19, which was below Monday's doji low of 155.34.
Franklin Resources Inc. (BEN) is a $35.19 billion asset manager that provides a wide range of services. BEN made a low of $144.10 in the middle of April and a new 52-week high at $169.62 on Monday when a doji was formed.
NEXT PAGE: 2 Stocks Ready for Pullback
|pagebreak|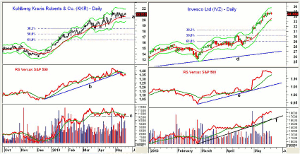 Click to Enlarge
Kohlberg Kravis Roberts & Co. (KKR), a $5.52 billion investment firm, has not made a new rally high since April 25 as it has moved sideways.
Invesco Ltd. (IVZ) is a $15.3 billion asset management company that was originally recommended in March's column 4 Strong Stocks in Top Sectors.
What it Means: The number of negative formations in the asset manager stocks suggests they are ready for a pullback. There are no signs yet of a top for the financial sector so this may just be sector rotation and not an early sign of a market correction.
How to Profit: No new recommendation
Portfolio Update: Should be long Invesco Ltd. (IVZ) from $27.73 and sold half at $33.22. Would sell the remaining position on the opening (advice was tweeted before the opening).