July's Pops and Drops
08/12/2013 10:15 am EST
Focus: STOCKS
It is easy to lose sight of the forest for the trees, so MoneyShow's Tom Aspray recommends reviewing your holdings regularly to make sure you have a game plan in place ahead of time in case stocks undergo a steeper decline.
As expected, August is already looking more difficult than July. After the first seven days of trading in July the Dow Industrials was up 2.5%, while after Friday's drop it is down 0.40%, so far in August.
Stocks got a boost in July from the better-than-expected earnings but there are more cross currents ahead in August that may dampen some of the recent euphoria of stock investors. This may make it a more treacherous end to the summer so I continue to suggest that you don't leave on vacation without a plan for your portfolio.
Review each of your holdings and look at how they may react if the market has a 5% or 10% decline. One approach is to see how far it is above, say a 50-day MA. If your original plan was for the investment to be a core position, then use a stop under major support. If you have not yet taken any profits in those positions that are doing well, consider it now.
Stocks in Asia were generally higher Monday except for Japan where its growth data missed expectations. The European markets are down across the board with the Dow futures down 50 points. The full economic calendar this week and the potential for another round of taper fears could hit a market that has already lost some of its upside momentum.
The review of the July recommendations for the Charts in Play Portfolio shows that while some did pop, others did not, and it is time for a review of the current holdings.

Click to Enlarge
Chart Analysis: Toyota Motors (TM) has a very wide range two weeks ago as its second quarter profits doubled, and the stock hit a high of $134.93.
Valero Energy (VLO) was a favorite in 2012 and was the only one of three energy picks in July where my recommended buying level was hit.
NEXT PAGE: What It Means
|pagebreak|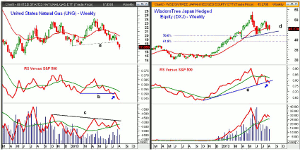 Click to Enlarge
The fastest bad trade recommendation in July was in United Natural Gas (UNG) as it gapped to the downside the week after it was recommended, breaking the support at line a.
On July 10, it looked as though the correction in the Japanese market was over as it had rallied sharply from the support levels I identified in June. The WisdomTree Japan Total Dividend Index (DXJ) made its high six days later at $49.54.
What It Means: Until there are clear-cut sell signals for the overall market, it is not clear whether we will see a 5% correction or more like 10-12%.
Natural gas a seasonal tendency to bottom in July and the weekly OBV was strong while the relative performance was not. It would have been better to wait for confirmation of a bottom.
For those positions that have done well, I would not recommend a full one, while the Japanese market looks as though it could drop below the June lows before the correction is over. Some sectors, like the oil stocks, have not rallied with the market and could emerge as market leaders this fall.
How to Profit: No new recommendation.
Portfolio Update: For Toyota Motor Corp. (TM), should be 50% long at $120.96, with a stop at $114.83.
For Valero Energy Corp. (VLO), now 50% long at $34.90 and 50% at $34.11, use a stop at $32.84
For United States Natural Gas (UNG), went 50% long at $19.67 and 50% long at $19.56, both stopped out $18.27.
For the WisdomTree Japan Total Dividend Index (DXJ), should be 50% long at $44.54 and 50% long at $43.26. Use a stop now at $44.38.
For the WisdomTree Japan SmallCap Dividend (DFJ), should be 50% long at $45.66 and 50% long at $44.76. Raise the stop to $46.36.
NEXT PAGE: The Charts in Play Portfolio
|pagebreak|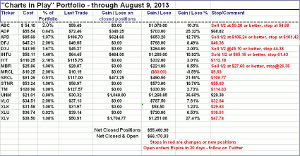 Click to Enlarge