What Do BAC, AMGN, ESRX, & RHT Have in Common?
05/02/2014 10:45 am EST
Focus: STOCKS
While doji formations are typically seen as a sign of indecision, MoneyShow's Tom Aspray found that one analyst' s unique application of these patterns can help identify tops or bottoms. Here, he identifies four stocks that are currently displaying this pattern.
Stocks had a quiet session ahead of today's monthly jobs report with slight losses in the Dow Industrials and S&P 500 while the Dow Transports gained 0.61%. The market seemed to pay little attention to either the better-than-expected economic data or the apparent heightening of tensions in Ukraine. Many of the major averages did form dojis on Thursday, a candle formation that suggests indecision.
On the big board, the A/D ratios were slightly positive but they were slightly negative on the Nasdaq Composite. Though the A/D lines continue to look strong, the McClellan oscillator at +48 may be losing upside momentum. Several analysts are turning more bearish on the stock market and individual investors became a bit more cautious this week as the bullish % dropped from 34.5% to 29.77%. This is a positive for the market.
Now that a new month has started, it is a good time to look at the monthly charts, which many analysts find very informative. For example, the creator of the low close doji candle chart formation, John Person, sent me a list of those stocks that had triggered monthly low close dojis at the end of April.
I have found this to be one of the most valuable candle chart formations as I noted in A Candle Trigger For Market Tops. One stock that looks especially vulnerable, says John, is Bank of America (BAC), and I have selected three other stocks from his list that you should examine more closely if they are part of your portfolio.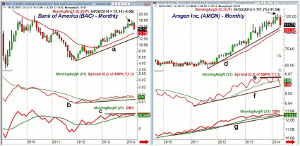 Click to Enlarge
Chart Analysis: The monthly chart of Bank of America (BAC) shows that a doji was formed in February (see arrow). The stock made a new high the following month but closed below the doji low of $16.12 at the end of April.
Amgen Inc. (AMGN) formed a doji in March (see arrow) and closed April at $111.75, which was well below the doji low of $118.56.
NEXT PAGE: 2 More Stocks with LCD Signal
|pagebreak|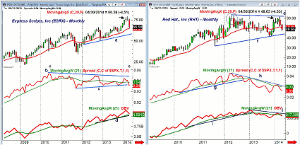 Click to Enlarge
Express Scripts, Inc. (ESRX) dropped 6.2% on Wednesday as its earnings and revenue both missed while providing negative guidance. The stocks formed a doji in February and March.
Red Hat, Inc. (RHT) triggered a LCD in May 2012 (see circle) and drifted lower for the next 16 months. The stock bounced in late 2013 and early 2014.
What It Means: Both of John Person's high and low close doji candle formations can be used on any time frame. Like most analytical methods, monthly signals are more important than weekly or daily.
As I noted in the March 14 Week Ahead column, the PowerShares QQQ triggered a LCD sell signal with its close at $88.47. Two weeks ago, it had a low of $83.38 and I recommended long positions on April 25.
Therefore, these signals do make a further decline likely, so investors should take note.
How to Profit: No new recommendation