Euro Nearing Important Levels in Thin Trading
12/29/2010 12:01 am EST
Focus: FOREX
The EUR/USD has seen seesaw price action as the greenback has fallen in and out of favor, leaving the pair little changed during thin trading. We expect to see limited conviction behind rallies with thin holiday trading. Therefore, targeting the most liquid pair is prudent, as it should provide favorable spreads allowing for scalpers to maximize profits.
Concerns over the European debt crisis have hit a lull, which is allowing for brief support for the single currency. However, bullish potential is limited with Portugal and Spain still in the crosshairs and France now coming into focus with their budget deficit at troubling levels.

Click to Enlarge
The 200-day simple moving average (SMA) at 1.3086 has combined with a rising trend line to provide support and allow the pair to regain its footing. Meanwhile, the 20-day SMA at 1.3213 and a descending trend line are limiting upside potential. The developing wedge points to further consolidation and is creating an ideal scalping environment. Former consolidation is providing short-term support and may provide target levels to enter and exit positions.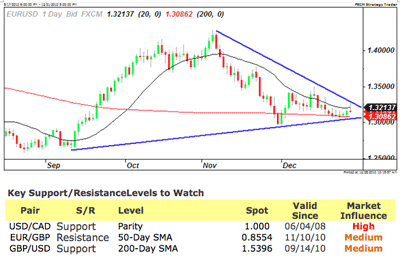 Click to Enlarge
The EUR/USD's Bollinger band width has narrowed to 427 pips as the pair continues to trade sideways during thin holiday volume. The pair's level of variance places it in the bottom half of the major pairs, making it an attractive scalping target. A declining average true range (ATR) is also enhancing the pair's case, with daily volatility quieting to 139 pips. Despite the decline, the pair still ranks near the top of the most active pairs, which should be a concern for high-frequency traders.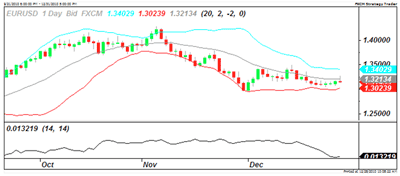 Click to Enlarge
Overall, the market has mostly been locked in a choppy consolidation over the past several days, but a lower top looks to have carved out by 1.3500, with a break back below 1.2970 over the coming sessions to confirm and open the next major downside extension towards the 1.2585 platform base from August 2010. As such, any intraday rallies towards the 1.3300 area should be used as formidable sell opportunities.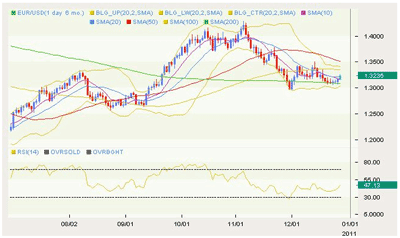 Click to Enlarge
By the Staff at DailyFX.com