An Overlooked Aspect of "Fed Day"
01/17/2012 6:00 am EST
Focus: FOREX
Important changes are taking place at the Fed, and understanding where the new FOMC voters stand on core monetary issues may clear up the outlook for interest rates for the year ahead.
Currency traders understand that interest rates affect price movement in the forex markets. One of the things serious forex traders should monitor is the actual people who are responsible for interest rates: those who sit on the Federal Open Market Committee (FOMC). Those positions are going to change dramatically in 2012.
Let's first define the terms:
"Hawkish" is a term typically used to describe monetary policy that favors higher interest rates, tighter monetary controls, and restrictive credit policy.
"Dovish" refers to an economic outlook which generally supports lower interest rates. Doves take the position that inflationary pressures are low enough for low interest rates to be desirable.
Gone are Evans (the most dovish member of the FOMC), Fisher, Plosser, and Kocherlakota (the trio of hawks), and in comes Lacker, Pianalto, Lockhart, and Williams.
Three hawks and one dove will now be replaced with three doves and one hawk. We can only imagine what this means for monetary policy in the coming year.
Every piece of good data will be looked at with skepticism, and the central bank as a whole will be more likely to introduce another round of quantitative easing than to normalize monetary policy.
Here is the updated FOMC voters' dove/hawk scale for 2012:


Click to Enlarge
Jeremy C. Stein and Jerome H. Powell have been nominated by President Obama to fill the two vacant seats on the Federal Reserve's Board of Governors, but they still need to be confirmed by the Senate, which will not return to session until January 23.
Here's where the current voters stand:
Openly Dovish
Cleveland Fed President Sandra Pianalto
Moderately Dovish
NY Fed President William Dudley
NY Fed Vice chair Janet Yellen
Slight Lean towards Dovishness
Fed Board Member Daniel Tarullo
Fed Chairman Ben Bernanke
Fed Board Member Elizabeth Duke
San Francisco Fed President John Williams
Atlanta Fed President Dennis Lockhart
Neutral
Fed Board Member Sarah Raskin
Slightly Hawkish
Richmond Fed President Jeffrey Lacker
Here is the FOMC rotation for the next few years: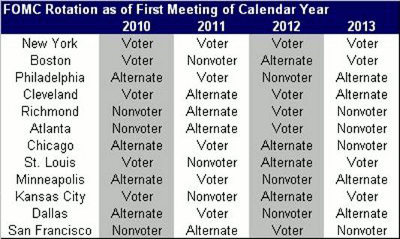 Click to Enlarge

Click to Enlarge
Understanding the general bias of the FOMC members is as important as knowing what days the FOMC is set to announce interest rate changes ("Fed day") and release minutes from previous meetings.
See related: What Investors Need to Know About the Fed
By Kathy Lien of KathyLien.com