Scalping Short-Term Market Momentum
12/07/2012 9:00 am EST
Focus: FOREX
The EUR/JPY has advanced 327 pips from the November 21 open. As December trading begins, short-term market momentum can be used to identify fresh scalping opportunities, writes Walker England of DailyFX.com.
Trading a scalping strategy in the forex market first requires traders to find and identify short-term market momentum. Regardless of the strategy we ultimately end up executing, it is always imperative to have a trading bias to determine if we are looking to buy or sell a currency pair prior to moving in on a shorter-term graph. Today, we will review the ongoing EUR/JPY trend uptrend and see if there is an opportunity for continued upside momentum.
The EUR/JPY has been on our radar for some time now and was recently discussed in our previous discussion on market momentum. Since this point, the pair has advanced as much as 327 Pips from the November 21 market open. With price now attempting to breach previous highs, we will turn to our building blocks to find the key points in short-term momentum in order to find scalping opportunities.
EUR/JPY 4-Hour Trend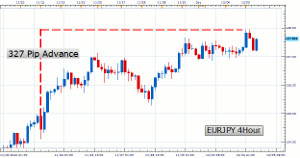 (Created using FXCM's Marketscope 2.0 charts)
Click to Enlarge
EUR/JPY Building Blocks
Pictured below we can see our current building blocks, outlining market momentum using the EUR/JPY 30 minute graph. The analysis for Block 1 began on Wednesday November 28. Shortly after this point the market printed its standing low for Block 1 at 105.26. From this point the market slowly advanced confirming market momentum to the upside by printing a Block 1 high at 107.65.
Strong trends must have price in both building blocks heading in the same direction. Currently the December 2012 low on the EUR/JPY resides inside of Block 2 at 106.84, however this low is higher than the previous low in Block 1. Also price has showed continued momentum printing higher highs all the way through the close of our analysis on December 5. These market movements are indicative of a strong short-term trend.
EUR/JPY Building Blocks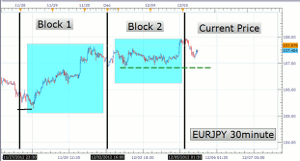 (Created using FXCM's Marketscope 2.0 charts)
Click to Enlarge
With market momentum in both building blocks remaining higher, the short-term trend for the EUR/JPY remains upward. With momentum identified, scalpers may look to buy the EUR/JPY on future market advances. Alternative scenarios include a breakout under the Block 2 support, residing at its low at 106.84. A move below this point would conclude our running uptrend and at least temporarily change the trading bias on the EUR/JPY.
By Walker England, Trading Instructor, DailyFX.com