2 Currency Pairs Give Early Warning Signs
02/21/2013 6:00 am EST
Focus: FOREX
Two of the most widely traded currency pairs in the world have exhibited an interesting divergence this year, says Vadim Pokhlebkin of ElliottWave.com, but it may be coming to an end soon.
While EUR/USD has spent most of 2013 rising, GBP/USD spent all of this year in a steady decline.
That might seem strange, considering that both forex pairs measure the strength of the US dollar against two key currencies from the same region: Europe. Because of that, you'd expect the exchange rate between the euro and the dollar and the British pound and the buck to move more or less together. But they don't; or at least they haven't, not lately.
You see this divergence even on the short-term timeframe. For example, on February 19 EUR/USD posted a nice gain while GBP/USD fell to a fresh low for the year.
These two charts show you that February 19 divergence. (Elliott wave labels not shown.)
EUR/USD, Feb. 19: Nice pop!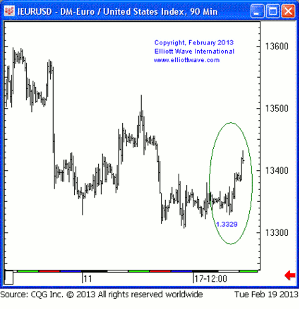 Click to Enlarge
GBP/USD, Feb 19: Aw shucks, another drop.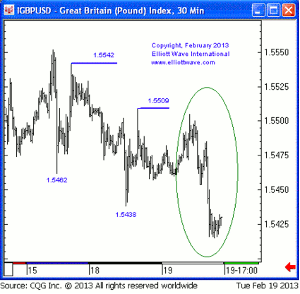 Click to Enlarge
There's a reason why you see such divergences even in "related" markets like these two: Each market reflects the prevailing psychology of its particular group of players.
Yet rest assured: Elliott wave patterns in every liquid market (and both EUR/USD and GBP/USD are extremely liquid) track the shifts in the collective bias very closely-and usually give you warnings about any trend changes well beforehand.
Right now, says our Currency Specialty Service editor, Jim Martens, he is on the lookout for such a warning in both EUR/USD and GBP/USD. It appears that their recent divergence may be coming to an end soon.
All we are looking for, says Jim in his latest GBP/USD update, is a "rally in 5 waves at small degree." Then it's off to the races.
By Vadim Pokhlebkin of ElliottWave.com