Japanese Yen Eyes Fresh Lows—But When?
05/10/2013 6:00 am EST
Focus: FOREX
Yen pairs are treading water ahead of the next Bank of Japan interest rate announcement on May 22, and DailyFX.com quantitative strategist David Rodriguez looks for clues on when to expect the next strong moves.
Japanese Yen - Retail forex trading crowds remain steadily net-long the Japanese yen (short EUR/JPY) as it trades near significant lows (EUR/JPY , USD/JPY highs). This serves as contrarian signal that the JPY may remain weak through the foreseeable future.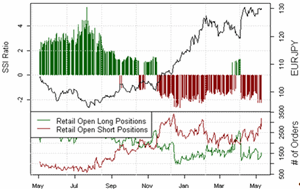 Click to Enlarge
Trade Implications - EUR/JPY: We've mostly stuck to the sidelines on the Japanese yen as especially low forex market volatility expectations warned it could stick to tight trading ranges versus the euro and other major counterparts. That remains the case—the EUR/JPY and other pairs seem unlikely to break to fresh peaks.
That said, we're mostly in favor of buying any substantive dips in the EUR/JPY and USD/JPY; joining the crowd in selling seems imprudent given the pronounced Japanese yen downtrend.
By David Rodriguez, Quantitative Strategist, DailyFX.com