Seasonality & the Dollar Rally
11/05/2013 9:00 am EST
Focus: CURRENCIES
The US dollar reversed trend and has strengthened in recent sessions, and Adam Button of ForexLive offers an explanation for the shift.
European inflation data and the ECB are the focus of the market but let's not forget the Fed decision and the chance of a taper in December.
The dollar was in the doldrums for August, September, and most of October but let's not forget it's narrowly behind the euro as the best performer in 2013 and that's despite a weaker-than-forecast economy, a dysfunctional government, and no tapering.
The dollar is also leaving a weaker seasonal period, the Dollar Index declined in October for five consecutive years, and in September, in four of the past five. Now that begins to change, November has been the second-best month for the US dollar over the past eight years and is working on a three-year winning streak.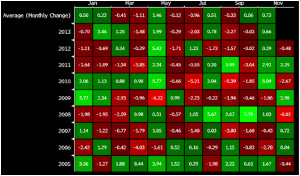 Dollar Index Seasonals
Click to Enlarge
Technically, the US Dollar Index has also broken above the 55-day moving average and is at the highest since Sept 18—it's no coincidence that was the day the Fed surprised markets by not tapering.
By Adam Button of ForexLive