The Yen Trend Is Your Friend
08/05/2014 9:00 am EST
Focus: CURRENCIES
Given that August has consistently been the second worst month for this currency pair since 2005, Adam Button of ForexLive.com maps out the upcoming events that could either turn things around or possibly make the downside even more severe.
The July-October period is easily the worst time of year for USD/JPY. August is the second worst month for the pair since 2005 and is also a soft month in the longer-term.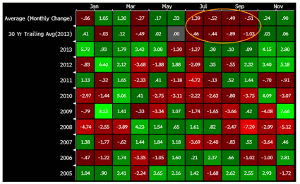 Click to Enlarge
What could cause the dollar to sell off and yen to rally?
Two key events for the yen are the Bank of Japan decision this week and the August 12 GDP report. The BOJ will surely leave policy unchanged but could begin to abandon the cautiously optimistic (probably too optimistic) tone of the past six months. A further retrenchment in the outlook could come if GDP disappoints. The consensus is for a 7.1% annualized contraction following the hike in the consumption tax—cause for alarm indeed.
For the US dollar, the focus will be the Jackson Hole three-day Fed symposium beginning August 21. Once again, the market will look for a signal from Yellen that rate hikes are coming sooner. If she continues to emphasize slow wage inflation and a mediocre outlook, the dollar could sag.
Overall, the fundamentals don't line up very well for USD/JPY seasonal weakness. The downside could come in the pair if the BOJ feels it's hamstrung and doesn't offer any hints of further action and Yellen remains dovish but those trends could easily go the other way. The best chance for a USD/JPY fall might be a stronger dose of risk aversion.
By Adam Button, Editor, ForexLive.com