Why Weaker Euro Has Little to Do with "Negative Inflation"
10/02/2015 9:00 am EST
Focus: FOREX
Fact is, the euro was on its way down days before the latest "negative Inflation" report from Europe, says Vadim Pokhlebkin, of ElliottWave.com, who shares a recent interview with Jim Martens for the benefit of all forex traders with their eyes glued to the charts, wanting an explanation for the weaker euro.
"I keep a very close eye on the economic calendar. Mostly the biggies: Fed statements, monthly unemployment numbers, new home sales, etc. On those days, I like to be looking at my screen about 30 minutes before the data release to see if any Elliott wave patterns are coming to an end. When they are, often the price reversal will coincide with the news.
"That's a key distinction: 'coincide with the news,' not 'be caused by the news.'
"The financial press always attributes market moves to an economic number or something that the Fed said. But if you look at the price charts, you'll see that often, markets start to move hours, or even a day or two, before the event which subsequently is said to have caused the move."
This quote from a recent interview with Jim Martens, editor of our Currency Pro Service, came to mind Wednesday morning (Sept. 30) when I read a Reuters story explaining why the euro fell against the US dollar that day:
"The euro fell against the dollar…after a EuroZone inflation report [missed] expectations, [remaining] well below the European Central Bank's target of just under 2%."
Blaming the euro weakness on "negative inflation"—or, deflation, if you call a spade a spade—is a very logical choice. After all, the euro did get weaker after the report. However, if you look at EUR/USD charts, you'll see that this weakness started days ago.
Elliott wave patterns in EUR/USD charts warned of the coming euro decline as early as September 25, last Friday. That's when Jim's Currency Pro Service posted this chart and forecast (partial Elliott wave labels shown):

Click to Enlarge
September 25, 2015: 2:41PM ET: EUR/USD has turned lower in what might represent the start of wave (3) of ((3)) of iii. A decline in this wave position should prove sharp and extended.
Next week might be a bad one for the euro. Or, it could be a great week for the dollar. It should certainly prove interesting.—Jim
And this is how much lower EUR/USD finds itself Thursday, five days later: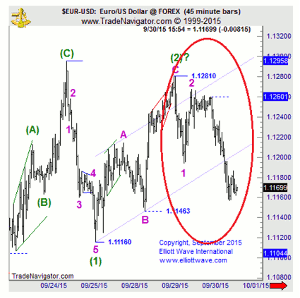 Click to Enlarge
"An interesting week," indeed. Says Jim in the same interview,
"For me [the fact that] you [often] see trends begin before the news is another reason not to rely on the news and fundamentals to forecast the trend.
"It's not the news that moves the markets, it's how the crowd interprets the news."
By Vadim Pokhlebkin of ElliottWave.com