Join Raghee Horner LIVE at Back to the Futures!
Join Raghee Horner LIVE at Back to the Futures!
How I Use Chart Patterns to Trade (Part 2)
12/01/2009 12:01 am EST
Focus: STRATEGIES
Wedges are considered continuation patterns. The rule of thumb when analyzing or trading an established trend is to follow the trend until it breaks or transitions to a sideways market cycle. The break of a trend is defined by prices trading through the resistance of a downtrend or the support of the uptrend. Wedges can help a trader find an entry point within the context of a trend—which, contrary to belief, is a difficult thing to do correctly. Just because a market is trending doesn't mean that any entry with the trend is a good one. The wedge offers a trader a point at which to short resistance at the upper downtrend line or play the reversal of the trend, which also is defined by the upper downtrend line.
Chart patterns can develop simultaneously across multiple time frames as well, so they are particularly well suited to handle any trader's demand, from the end-of-the-day trader to the most hyperactive daytrader. So far, we have looked at chart patterns as they have developed in the indexes, however, chart patterns are especially accurate in the forex market due to its 24-hour trading. The US dollar/Japanese yen 15-minute chart in Figure 3 shows a symmetrical triangle forming.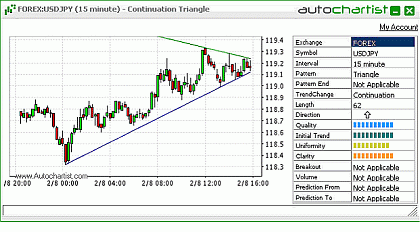 Click to Enlarge
A symmetrical triangle is formed with a downtrend line and an uptrend line. Earlier, we mentioned that understanding a pattern's quality is crucial to trading patterns—that every pattern is not a trade, but a potential set up. This pattern is a good quality symmetrical pattern for a number of reasons. The two keys to look for are the balance of the pattern and the balance of price.
Specifically, we are looking for the two trend lines to form a triangle that is squeezing price in a way that if we were to imagine folding the pattern in half lengthwise, the angles would be almost identical. In other words, the angle of the trend lines must be balanced. The other visual cue to be aware of is whether prices are balanced within the pattern. This balance can be seen if prices are bouncing off both the downtrend and the uptrend lines. As this symmetrical triangle pattern was developing, another pattern on the US dollar/Japanese yen was also shaping up. A rising wedge was developing on the 15- and 30-minute charts (Figures 4 and 5, respectively).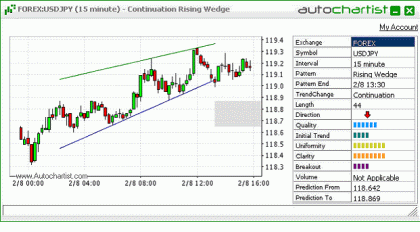 Click to Enlarge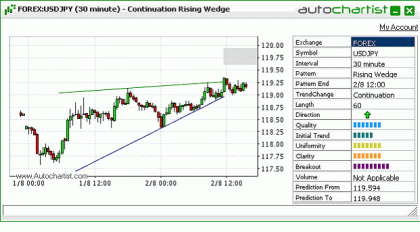 Click to Enlarge
As you can see, both of these patterns were using some of the same touch points to create the uptrend lines. In rising wedges, there are two uptrend lines where the lower one is support and the upper one is resistance. In rising wedges, we must be especially mindful of the lower uptrend line support because this is the level at which we can buy a bounce. If this level breaks, it could signal a reversal of the uptrend in which the pattern formed.
These two patterns were not the only opportunities a chart pattern trader could take advantage of. Another 15-minute rising wedge had also formed and this wedge was a larger pattern (Figure 6).
It used many of the same touch points, but the difference between this rising wedge and the smaller rising wedge is that the "look back" of this pattern was longer. Look back is the amount of data used to form the pattern. In this case, you can see that the look back goes to 7/31, as opposed to the smaller wedge that originated on 8/1. This may seem like a small difference, but consider that the charts are 15-minute time frames and that each new hour presents four new candles. The difference of even just six hours is 24 new candles from which to connect touch points and create a pattern.

Click to Enlarge
MORE: Today's Lesson Continues on Page 2
|pagebreak|
Let's look at some more examples. Again, remember all your studies should be geared toward training your eyes to notice the nuances of patterns because this allows you to make the distinction between good, better, and best patterns. So far, we've looked at patterns that are dominated by trend lines. Now let's examine patterns formed by more horizontal levels.
A rectangle pattern is similar to a channel. The difference between the two is that a channel is typically narrow and a rectangle is wider. It's much like the difference between accumulation and distribution. Just like triangles, rectangles (and channels) can develop simultaneously across multiple time frames.
Let's take a moment to discuss time frames. Ultimately, which time frame you chose to trade should be based upon the quality of the pattern and risk/reward ratio it presents. Other considerations are more individual.
For example, if you are an intraday or full-time trader, many shorter-term time frames will be available to you for analysis. However, if you are a part-time trader or someone who prefers to look at the charts once or twice a day, then certainly, longer-term intraday charts, like the 240-minute chart or the daily will suit your time constraints or preference. Regardless of your preference, it must be said that chart patterns that develop on daily charts are more psychologically significant than those that develop on any intraday time frames. This is mainly because daily charts are by far the most followed by the general public.
My philosophy on time frames runs somewhat counter to the prevailing approach. While most traders look to longer time frames to confirm the movement on a shorter time frame (known as multiple time frame confirmation), I do not subscribe to this.not at all. In fact, my belief is that the smaller time frames are the "canary in a coalmine" and give a trader acute and more sensitive cues to shift in the market. Taking this one step further, treat each time frame as a stand alone and remember that the 15-minute chart is the building block to the 30-minute, and the 30-minute is the building block to the 60-, to the 240-, and then to the daily. A trend shift starts on the shorter time frame, and if that shorter time frame persists enough, it will affect the larger time frame, and so on.
One of my students told me that I described this effect as the "stream leading to the river leading to the ocean." I frankly can't remember saying it, but it sure is accurate! So the 30- and 60-minute charts would be the stream, the 180- and 240-minute charts the river, and the daily the ocean. These time frames are simply my preference when analyzing forex. Some traders use a 15-minute chart, which one of my students called the "creek that leads to the stream." Well said.
This rectangle appears on the 15-, 30-, and 60-minute charts (Figures 7, 8, and 9, respectively).
The horizontal support and resistance levels that created the rectangle all use the same touch points. The main determination of which one to trade would be which pattern was the best example of a rectangle. After this determination, you would follow your preference for a specific time frame. As you can see, chart patterns offer accuracy, flexibility, and the boundaries traders need to identify in order to locate where we choose to enter a trade. Most of us have studied these powerful and simple-to-understand tools. Just do not make the error in thinking simple is ineffective.

Click to Enlarge

Click to Enlarge

Click to Enlarge
My continuing trading adventure is sprinkled with many things I would have never thought I would be doing, like public speaking and seminars, online classes, software development, books, and more. In the end though, I know it's just me and my charts. My friends and family even joke that I'm "off the chart" on weekends and vacation. When I present my trading approach at any of the Expos where everything always seems "new and improved," "hot," and "advanced," I am proud to say that the people who taught me were those who traded, wrote, and taught in the early 1900's, and that the tools to my trade are a century old. That's before computers, television, and back when "Wall Street" was a street with a tall wall built along it! Time-tested, tried and true suits me just fine.
Special thanks to Autochartist for the pattern alerts and charting.
By Raghee Horner
Raghee Horner is a Traders Expo speaker and the author of High Profits in High Heels: Secrets from Today's Top Women Traders.